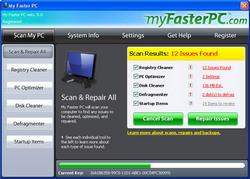 With over three million users, the My Faster PC application is one of the most downloaded tune-up and maintenance tools
New York, NY (PRWEB) August 10, 2009
Consumer Software International, Inc, today unveiled the fifth edition of its popular low-priced diagnostic and repair software, the My Faster PC software suite. The fifth edition has been re-built from the ground up in native code for better compatibility with Vista 32-bit and Windows 7, and now offers faster scan and repair times, as well as improved schedulers, backups and auto-cleaning. Re-skinned and re-designed for easier navigability, the My Faster PC software now features an innovative new PC Optimizer that helps tweak little-known settings for even speedier PC performance--one of the many unique advances that will once again help the My Faster PC software suite capture the ever-growing Windows utilities market.
"With over three million users, the My Faster PC application is one of the most downloaded tune-up and maintenance tools," notes Trisha Burns, Senior Director of Sales and Marketing for ConsumerSoft. "With such a large user base, it allows us to conduct rigorous field testing so we can refine our product to take advantage of the latest developments in PC optimization." She adds that thanks to customer feedback, the My Faster PC software is now even more powerful at correcting common problems, freeing disk space, making applications run faster, preventing annoying slowdown, and reducing startup and shutdown times.
It's a common observation that as PCs age, they become slower and more error-prone. This is because Windows becomes cluttered with dead or obsolete files and unwanted startup applications. The data on the hard drive fragments and the registry (the area of Windows where all computer activity is recorded) gets bogged down by invalid entries. The My Faster PC software is an all-in-one tool that uses techniques developed by experts to fix and speed up their computers. Its suite of features helps boost slow PC performance by cleaning up unwanted or broken files and programs, consolidating information on the hard drive, and safely fixing registry errors. Thanks to a user-friendly interface that offers time-savers like one-click backups and repairs, the My Faster PC suite puts consumers in total control over their PC maintenance. The fifth edition even provides detailed registry reports so users can discover and safely eliminate the exact items that are causing mischief.
According to a survey from the March issue of PC World, repair services are thriving as more people are putting off new computer purchases in a troubled economy--which is why the My Faster PC 5 suite is expected to shine. "By making sure the computer is cleaned and running with optimized settings," says Ms. Burns, "My Faster PC 5 can help you experience the 'right out of the box' feeling." At $29.95 for a one-year subscription, the newest edition of the My Faster PC software suite offers PC owners an affordable second life for their machines.
The My Faster PC website is currently offering a free trial download for new customers to demonstrate how it can help make computing fast and fun again. The full version costs $29.95.
For more information, visit the My Faster PC website.
About ConsumerSoft:
Founded in 2006, ConsumerSoft spent two years in R&D before launching the My Faster PC software, a diagnostic and maintenance tool that has revolutionized the consumer utilities market. The New York-based company is an industry leader in making professional PC performance-enhancing technology accessible to all PC owners - a mission it achieves through intuitive user interfaces, low price points, and by providing free, live, US-based phone support for all its products. More information can be found at the ConsumerSoft website.
###