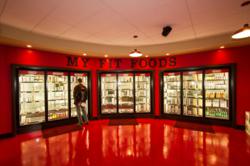 Houston, Texas (PRWEB) March 29, 2013
My Fit Foods continues its expansion in the Houston market with a new retail location bringing the healthy grab and go concept to the downtown Houston community. The new My Fit Foods store, located in the popular downtown Houston retail tunnel system, will offer fresh healthly pre-portioned meals and snacks for the taking.
My Fit Foods was founded in 2006 out of the apartment kitchen of founder Mario Mendias, a former Marine and Houston personal trainer who was dedicated to ensuring his client's achieved the results he promised. Out of the spirit of service, Mario, started cooking meals for his clients who were too busy to shop and prepare healthy meals with a time crunched schedule. Shortly after eating the portion controlled healthy meals, his client's fitness results began to speak for themselves! Soon Mario was not only cooking for his clients, but all the clients in the gym. "Clients working their tails off in the gym and not achieving the results they should, is every personal trainer's nightmare. As a personal trainer, I knew that my client's nutrition is what drove 80% of their results in regards to their health and fitness goals. Their nutrition, was the one part I could not control…or could I?"- Mario
In 2007, Mario outgrew his apartment kitchen and partnered with restaurant pioneer, Anthony Milton (My Fit Foods, CEO) to create My Fit Foods and expand the mission to provide fresh, healthy foods to go that taste great at an affordable price. The menu expanded with additional meals and snacks all focused on lean protein, low glycemic carbohydrates and heart healthy fats.
My Fit Foods was founded in the spirit of service, and we continue that spirit today through our kitchens, stores, schools and communities. Whether in need of a quick meal or snack on the go or want take advantage of the convenience and results of our 21 Day Challenge, we are here to make healthy living a reality.
With just a little over 6 years under their belt as a retail store concept, My Fit Foods is on the forefront of a major nationwide expansion. Over 50 locations can now be found within Texas, Arizona, California, Oklahoma, and Idaho. There's no slowing down for My Fit Foods, as they continue their expansion plans to take the concept even further nationwide while helping Americans get FIT and stay FIT one meal at a time.