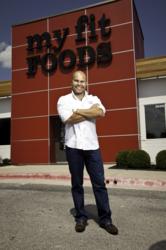 "My Fit Foods is on a mission to change lives one healthly meal at a time." ~Founder, Mario Mendias
Los Angeles, California (PRWEB) November 08, 2012
The My Fit Foods flagship store opening at 11701 Wilshire Blvd. in Los Angeles, Thursday, November 8th, marks the first of two new retail locations for the healthy meal concept set to open in the Los Angeles market this November.
Founded in Houston, Texas, My Fit Foods is a take-out operation for healthy, pre-portioned meals and snacks. My Fit Foods is dedicated to making sure that every meal they create is not only healthy, but also balanced. The staff at My Fit Foods weighs every single ounce of protein and carbohydrates to make sure the body is always getting the right amount of nutrients it needs in its fresh pre-portioned meals to go. With over 60 meals to choose from including breakfast, lunch, dinner, and snacks, My Fit Foods makes eating healthy convenient and affordable.
My Fit Foods, which was founded in 2006 by Mario Mendias out of his apartment kitchen in Houston, began with one mission in mind, making eating healthy, simple, and affordable! "This is something that needed to be done!", states the enthusiastic former marine and personal trainer. My Fit Foods now has over 50 locations between Texas, Oklahoma, Arizona, California, and Idaho. My Fit Foods is growing fast to keep up with the high demand for its products and services throughout the nation.
Out of the spirit of service, founder Mario Mendias, started cooking meals for his clients who were too busy to shop and prepare healthy meals with a time crunched schedule. The client's fitness results spoke for themselves! Soon Mario was not only cooking for his clients, but all the clients in the gym.
In 2007, Mario outgrew his apartment kitchen and partnered with restaurant pioneer, Anthony Milton (My Fit Foods CEO) to create My Fit Foods and expand the mission to provide fresh, healthy foods to go that taste great at an affordable price. The menu expanded with additional meals and snacks all focused on lean protein, low glycemic carbohydrates and heart healthy fats.
My Fit Foods was founded in the spirit of service, and they continue that spirit today through our kitchens, stores, schools and communities. Whether you are in need of a quick meal or snack on the go, or want take advantage of the convenience and results of their 21 Day Challenge, we are here to make healthy living a reality.
For Additional Information visit the following media links:
http://www.myfitfoods.com
http://www.youtube.com/user/MyFitNation
http://www.facebook.com/myfitfoods