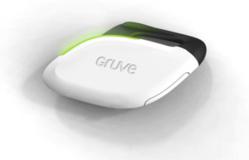 through the addition of this widget, users have an easy, accessible, and free way to track their daily calorie intake and that's great for everyone
Minneapolis, MN (PRWEB) March 28, 2013
The Gruve®, offered by Gruve Technologies, Inc., a leading provider of scientifically-proven health and weight loss products, will now show daily food calorie data from MyFitnessPal.com . This new online feature will help users get a complete—and more accurate—picture of daily calorie expenditure and consumption to aid long-term weight loss goals. The easy-to-use Gruve personal web interface shows users a private view of their daily calorie burn and will feature the MyFitnessPal.com widget starting in mid April 2013.
MyFitnessPal.com is a popular, free daily calorie intake tracking website with over 30 million users. It has the world's largest food nutrition and calorie database (over 1 million foods) and free mobile apps for iPhone, Android, Blackberry, and Windows. According to many studies, keeping a food journal and recording everything you eat and drink creates a sense of personal accountability, increases awareness of extra calories, and improves weight loss and maintenance.
The new MyFitnessPal.com widget will show the daily calorie intake, yesterday's calorie intake and a 7-day average from MyFitnessPal.com. Gruve users who might not have a MyFitnessPal.com account can sign up easily for a free account using the new MyFitnessPal.com widget. This new web feature will help users stay accountable and aware of what they are eating and better track if they are staying within the personalized daily calorie intake recommended in their Gruve plan.
"With portion sizes continuing to grow, we know it can be hard for people to accurately track the food they are eating. We are always looking for resources to help our users create healthy habits and stay on track to meet their health goals," says Dr. Robert Gauthier, CEO, Gruve Technologies, Inc. "Gruve does all the work in tracking users N.E.A.T. activity. And through the addition of this widget, users have an easy, accessible, and free way to track their daily calorie intake and that's great for everyone."
The Gruve is centered on the concept of non-exercise activity thermogenesis, known as N.E.A.T. for short, and is all the calories one burns while doing normal daily activity. Research found that increasing the N.E.A.T in daily life can result in sustainable weight loss and a dramatic improvement in overall health. The Gruve solution provides a personalized plan for the user that is calibrated to the user's specific metabolism and habits. The device has three forms of feedback to keep the user on track—color changing calorie burn status lights, vibration to remind the user to move, and interactive website visuals. These physical cues help the users to modify their behavior over time and provide a sustainable path to successful weight reduction, maintenance and improved health.
About Gruve Technologies, Inc.
Gruve Technologies, Inc. provides scientifically validated weight loss and wellness products designed to provide a long-term sustainable path to better health. Headquartered in Minneapolis, MN, Gruve develops innovative technology and products based on cutting edge medical research that are proven effective to modify behavior and aid in weight loss. For more information, visit http://www.gruvetechnologies.com.
###