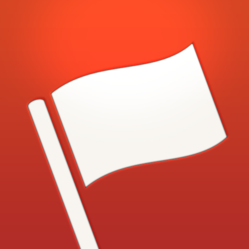 (PRWEB) March 08, 2013
Ranked 11th in the Productivity section of the Japan AppStore in only 2 days after its launch.
When it comes to efficiently managing the goals of today's modern iPhone aficionados, MyGoals is blazing new trails and all at no cost to the user. MyGoals works for all types of goals from learning to make new recipes to reaching a certain level of income. Equipped with a range of time-saving and easy-to-access features, the app is designed to improve the way people address and work on their goals.
Details About the MyGoals App – Characterized by three main functions, the 100-percent free MyGoals app provides users with several tools for successfully achieving their goals in an intuitive technological environment.

Set Goals from Start to End: Equipped with two types of goals, MyGoals allows users to choose the way they want to track their progress. The first goal type is a simple yes or no interface allowing users to set a goal and then verify if and when the goal was achieved. The second goal type gives users a way to track goals with a "record number" and shows percentage of achievement. Both goal types require the user to input an end date for goal completion.
Capture Achievement Level and Track Progress: The Goal Index Page lists all of the user's goals and shows the percentage of completion as well as how much of the goal remains. Users are easily able to compare and track this level of achievement with their original plans to determine if they are on schedule. This feature keeps users focused on their goals and motivates them to succeed.
Group Usage: With comment functionality, users can follow and motivate one another in groups with supportive commentary, even if their goals are not the same.
About MyGoals and the Steering Committee :
The developers of MyGoals are professional technologists with their finger on the pulse of modern man. In addition to the totally free MyGoals app for iPhone, the Steering Committee plans to release MyGoals for Android sometime in 2013. The MyGoals app also comes with an easy-to-use calendar interface for recording progress, reminders about goal end dates, and options to allow or prevent group comments. To learn more about the free MyGoals app or to speak to a representative, visit http://www.mygoalshq.com and access the contact form.
MyGoals iPhone app currently available for free at the App Store