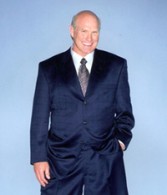 The best information for finding solutions to help aging parents live healthier and more productive lives.
Coral Springs, FL (PRWEB) April 19, 2013
The senior population continues to grow as more people live longer every day. Their needs are varied in type and severity, and caretakers often search for ways to make life easier and more enjoyable for them. It is in this light that myHealth TV presents a series about finding solutions for helping aging parents, which airs in April and throughout the year on most regional and national cable television networks.
Terry Bradshaw, the Hall of Fame quarterback from the Pittsburgh Steelers is the show host. His popularity gained momentum on the gridiron while leading the Steelers to four Super Bowl titles and picking up two Super Bowl MVP awards in the process. From motivational speaking to endorsing companies and their products to shows like this one, it is Terry's outgoing personality and credibility that keeps him busy today. Toss in some cameo appearances in a few major films, and close to a hundred appearances on the Jay Leno show, the reason is clear why Terry Bradshaw is a great host and segment narrator for the myHealth TV show.
The program examines current health-related topics which affect many people such as cancer, diabetes, heart disease and more. It explores alternative therapies, and delves into the root causes of some common diseases. The show aims to educate and inform the audience of breakthroughs in medicine and finding solutions to everyday health concerns, plus more. Learn more about myHealth TV on Facebook, Twitter and About.me.