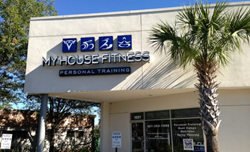 "It's great to get a group of people together who are determined to make big changes happen. By entering this contest, these people put themselves in a position to succeed like never before."
Orlando, Florida (PRWEB) June 11, 2014
Over 100 participants from all over Central Florida registered for the My House Fitness "Cut The Fat and Win Some Cash" body transformation challenge. The participants were provided with nutritional and fitness training plans and motivation to transform bad habits, that run the gambit from poor diets to lack of exercise. "I was amazed with how dedicated everyone was about sticking to the training and nutritional plans we provided. The overall winning participant, Todd Sontag lost 26 pounds and had a 13% reduction of body fat," stated Jenny Wherrell, owner at My House Fitness.
Sontag trained two times a week at the My House Fitness personal training center, took classes and added additional training time on the bike, in the pool and continued to run with a group that he founded in Central Florida. "In the beginning of the challenge, I used the competition to stay focused. My lifestyle has changed drastically over the past two months and with the nutritional plan coupled with the exercise routine, the pounds started flying off," said Sontag.
The majority of the contestants trained at happy hour classes three times per week, received Semi-Private personal training at least once per week, and followed a 6-week nutrition-coaching program. Following this rigorous training protocol, participants lost an average of 10 pounds.
"It's great to get a group of people together who are determined to make big changes happen. By entering this contest, these people put themselves in a position to succeed like never before," said Jenny. "And getting this many people involved allowed us to give out some huge prizes, which is great incentive and great fun."
With so many prizes at stake, individuals encouraged each other as much as possible, but in the end, they were pitted against one another in a test of determination and willpower. For most people, the biggest challenge in losing weight or exercising on a regular basis is having the motivation to continue to work hard over an extended period of time.
Wherrell says, "Psychology beats programming 100 percent of the time, and when you combine the right motivation with a program that is proven to rip off two to three pounds of fat per week… well, that's when you've got something special." In addition to Sontag, Megan Smith and Steve Appleton finished first and second in College Park and Maitland winners were Brian Washington and Lisa Sosa.
You can learn more about the journey that the contestants experienced by visiting the My House Fitness Blog and learn more about the upcoming "Back To You Challenge by emailing My House Fitness at info(at)myhousefitness(dot)com or by calling 855-844-8377.