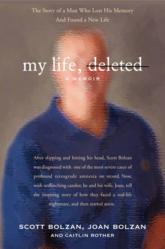 If everything you knew were erased in an instant,
how would you reinvent yourself?
San Francisco, CA (PRWEB) October 01, 2011
MY LIFE, DELETED is the true story of a 46-year-old man who suffered permanent amnesia—losing all memories of his past, his wife and children, his likes and dislikes, and even how to navigate the pace and gadgetry of the 21st century—and fought to build a new life.
On December 17, 2008, 46-year-old Scott Bolzan awoke in a hospital with no memory of who he was or how he got there. He did not know that the attractive blonde woman at his side was his wife of more than twenty years, Joan—or even what a wife was. He could not remember the births of his two teenage children, the daughter he'd lost, his time playing football in the NFL, or his successful career as an entrepreneur.
After slipping and hitting his head in his office bathroom, Scott had suffered profound retrograde amnesia, one of the most severe cases on record. MY LIFE, DELETED by Scott Bolzan, Joan Bolzan, and Caitlin Rother (ISBN 9780062025470; hardcover; $25.99) is the inspiring story of one couple who faced a real-life nightmare, and then picked themselves up and started anew. With unflinching candor, the Bolzans describe the day they learned that, contrary to initial medical opinions, the amnesia was likely irreversible. Scott vividly describes the fear and anxiety that he confronts every day, while Joan reveals the loneliness that comes with being the only one who does remember their story. And along the way, they share the thousands of struggles and victories they've experienced since their family changed in an instant.
In the midst of this unfathomable upheaval, life went on—for better and for worse. As they worked to repair their life together, the Bolzans also confronted the financial difficulties that came with losing Scott's income, and the agony of their twenty-year-old son's struggle with drug addiction. Despite it all, MY LIFE, DELETED tempers tragedy with stories of enormous love, and even humor. And through moments of indescribable pain emerges—against all odds—an enviable love story, as Scott and Joan fall in love a second time.
If everything you knew were erased in an instant, how would you reinvent yourself? Scott Bolzan has had to answer that question in a way few people ever will. MY LIFE, DELETED is an extraordinary look at what defines a person, a marriage, and a family.
About the Author
Scott and Joan Bolzan married in 1984 and have two grown children. Scott is a former NFL football player and pilot, and he is currently the founder and CEO of Legendary Jets in Tempe, Arizona. Joan is a registered nurse and marketing executive. Since Scott's traumatic brain injury in 2008, the Bolzans have become sought-after motivational speakers, sharing their story and life lessons with audiences nationwide.
Visit them online at http://www.thebolzans.com.
Caitlin Rother has authored or co-authored seven books, including Dead Reckoning, Where Hope Begins, and Poisoned Love. She lives in San Diego, California. Visit her online at http://www.caitlinrother.com.
MY LIFE, DELETED
A Memoir
By Scott and Joan Bolzan with Caitlin Rother
HarperOne, an Imprint of HarperCollinsPublishers
October 2011 | Hardcover | ISBN: 9780062025470
###