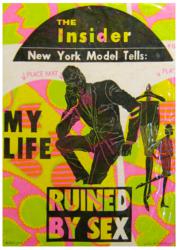 New York, NY (PRWEB) March 27, 2013
From rising art star to recluse, the life and work of self-taught printmaker and sculptor William Kent in many respects embodied the title of his semi-autobiographical 1964 print, "My Life Ruined By Sex." This exhibition, bearing the same title, explores William Kent's (1919-2012) calamitous life through his art and personal ephemera, highlighting his skill and creativity as well as the paradoxes that drove him, bringing his erotically charged work back to New York City for the first time in nearly fifty years.
By displaying Kent's works – including his carved slate prints from 1963-1976 and large scale sculptures produced in the final decades of his life – as well as his letters, photographs, and personal effects to put his life and work into context. "Encountering the Kent Collection was a special find for a curator. It's rare to come across such a large body of work that represents an artist's evolution and personal strife so clearly and profoundly," says Sarah Forbes, Museum of Sex Curator.
Born William Maurice Williamson in Kansas City, Missouri in 1919, he graduated from Northwestern University in 1944 and went on to study music theory and composition at Yale University School of Music. However, as a career path, music did not hold his attention for long and by 1947 he was creating fine art as a self-taught painter and sculptor. In the fall of 1949, he changed his name to William Kent and emerged as a powerful force within his local art scene in New Haven, Connecticut. By 1960, he become the curator of the John Slade Ely House and was the co-founder of the Professional Artists of Connecticut, a political arts organization focused on opening up exhibition opportunities for local artists.
By the time Kent was in his early 40's, his sculpture was well established locally and he was ready to take the next step. In 1962, his sculpture was introduced to the New York formal art world at an exhibit at the Castellane Gallery. A positive review by The New York Times declared him a "definite discovery" and within a year, The New York Times once again reviewed his work and went on to describe William Kent as an artist "with one eye on old carvings of the cigar store Indian type and the other on Pop art at its' most saucy."
However, these positive reviews could not protect him from the censorship prevalent at the time and the detrimental impact his political critique would have upon his career. In 1965, his exhibition of sexual-political prints on view again at the Castellane Gallery titled, "Erotic and Patriotic Prints, or Sex and Violence!" turned out to be too controversial and following its opening, Kent was dismissed from his post as curator at New Haven's John Slade Ely House, in part for creating "sick" works in his basement studio there. Kent never fully recovered from the aftermath of this exhibition, losing his footing once and for all within the formal New York City-centric art scene he revered.
In his later years, Kent took solitary refuge in his barn in Durham, Connecticut, but continued to make prints regularly until 1977 when he again turned his attention to wood sculpture, focusing on large scale pieces often of everyday objects. While smaller opportunities to exhibit and sell work presented themselves, Kent refused to participate because he deemed them beneath his skill level and not connected to the real art world. Kent carried out most of his life suffering financial difficulties as a solitary and overlooked master.
Despite being out of step with the formal art world for much of his lengthy career, Kent's work still has relevance today. "What is most striking about his sexual-political prints is that they genuinely feel as if they were made by a contemporary artist, contemplating the very same themes, pushing the same societal buttons," says Forbes. This exhibition, the first since his death in August 2012, seeks to once again spotlight William Kent's extraordinary artistic talents by exhibiting some of the erotic prints, slates, and sculpture, as well as personal ephemera.
Kent's legacy resides in the William Kent Revocable Trust, established a number of years prior to his death in 2012, not only to preserve the enormous collection of prints, slates, and sculptures he created over the course of six decades, but to also provide support to indigent artists. This was particularly important to Kent given that this was a state he found himself in many times over the course of his life. Those interested in purchasing works by William Kent, should contact Joan Baer at joanRBaer(at)aol(dot)com or visit the Trust's website at http://www.williamkentfoundation.org.
ABOUT THE MUSEUM OF SEX
The mission of the Museum of Sex is to preserve and present the history, evolution and cultural significance of human sexuality. Take an educational journey to the epicenter of human sexuality and explore this 14,000 square foot museum displaying hundreds of artifacts on sexuality from leading scholars, artists, and from the museum's permanent collection. With each new exhibition, this museum is committed to addressing a wide range of once taboo topics, while simultaneously highlighting material and artifacts from different cultures, time periods and media. http://www.museumofsex.com
For questions about the exhibition or for additional high definition images, please contact:
Jim O'Shea
212.689.6337 ext. 125