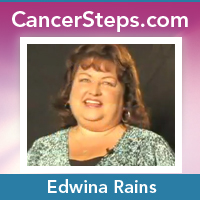 "As an administrator in an oncology office for the past twenty years, I have been in a position to make a difference for families in the most difficult time of their lives." Edwina Rains
Joplin, MO (PRWEB) May 19, 2012
As the city of Joplin, Missouri reflects on the one year anniversary of the powerful storm that cut a mile wide and twelve miles long path of destruction throughout the city, Joplin based MyMedLab has partnered with oncology advisor, Edwina Rains, to create CancerSteps.
CancerSteps is a social health system that provides families with access to basic lab tests and personal health records to track their results over time. CancerSteps includes a comprehensive database of resources to help support the patient and family, and also provides assistance with insurance billing.
From the web or any smartphone, CancerSteps includes a place to ask questions, share success stories, and to speak directly with Edwina and other health providers to help patients and families make more informed choices about their health care.
"As an administrator in an oncology office for the past twenty years, I have been in a position to make a difference for families in the most difficult time of their lives," said oncology advisor, Edwina Rains. The May, 2011 tornado not only changed my life, it changed access to health care in Joplin forever. Many physicians, including the ones I worked for, closed their practices to become employed by hospital systems. I was left without the work that I loved and was so devoted to. Many families were without the personal touch that can often mean so much during this critical time in their lives."
As part of MyMedLab's next generation approach to health care, CancerSteps offers live frequently asked question (LiveFAQ) sessions with Edwina and other health care providers via CancerSteps.com so that anyone can participate in the collective knowledge sharing process and get the answers they need.
To Learn more about CancerSteps, to ask a question, or to see if your question has already been answered, log on to Cancersteps.com.
About MyMedLab
Digital health pioneer, MyMedLab is a leading provider of direct-to-consumer laboratory testing services. MyMedLab has developed a unique suite of software applications and professional networks that enable the ordering, processing, and reporting of test results directly to consumers. To order tests, receive test results privately online, and talk to an expert about your results, visit MyMedLab.com.