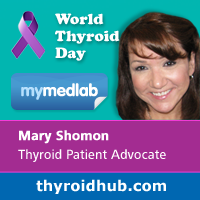 Helping people gain affordable access to these crucial thyroid tests is an essential step in reaching the five major goals and a fitting way for MyMedLab to honor thyroid patients on World Thyroid Day." Mary Shomon
Joplin, MO (PRWEB) May 24, 2012
Digital health pioneer, MyMedLab, celebrates World Thyroid Day by offering worldwide consumers a simple and affordable thyroid screenings. The standard TSH test will be available the entire week for only $25 to United States residents. A larger panel consisting of TSH, Free T3, Free T4, TPO will be available for $99 in the US and $149 for International buyers. All without the additional cost and inconvenience of a doctor's visit just to order testing.
Those who take advantage of the offer can also purchase a one-on-one expert review with Mary Shomon when their results are complete. This private conversation can help answer simple questions, provide options, and prepare them to share any abnormal results with their personal physician.
"Even completely normal results are very valuable because they create a baseline number to compare to for the rest of your life", said MyMedLab CEO David Clymer. "Choosing the one-on-one expert review with Mary is a powerful new way to get the most out of the limited time with your doctor. It's the foundation for the future of personalized or concierge medicine."
The American Thyroid Association observes the 5th Annual World Thyroid Day, May 25, 2012, in cooperation with international thyroid societies, the European Thyroid Association, the Asia and Oceania Thyroid Association, and the Latin American Thyroid Society.
Established in 2008, World Thyroid Day highlights five major goals to: Increase awareness of thyroid health, to promote understanding of advances made in treating thyroid diseases, emphasize the prevalence of thyroid diseases,to focus on the urgent need for education, to prevention programs, and to expand awareness of new treatment modalities.
"Millions of people are uninsured. Millions more are struggling with restrictive health plans, or national health systems that won't approve even basic testing," said Mary Shomon. "Helping people gain affordable access to these crucial thyroid tests is an essential step in reaching the five major goals and a fitting way for MyMedLab to honor thyroid patients on World Thyroid Day. I'm excited for the opportunity to combine the screenings directly with a real discussion where the whole world is invited to participate. "
As part of MyMedLab's next generation approach to health care, Mary will answer the 20 most frequently asked questions during a LiveFAQ on World Thyroid Day streamed live on ThyroidHub.com and the MyMedLab facebook wall. While this will be the first event of its kind, MyMedLab plans to host a series of live events throughout the coming months, including sessions on more advanced thyroid tests where consumers purchase the test in advance and then come together with Mary in a LiveFAQ to talk in depth about what their results can tell them.
Everyone is invited to join the first LiveFAQ Friday May 25, 2012 at 11:00 am CST by going to Thyroidhub.com or visiting the MyMedLab facebook wall. People worldwide will have the ability to ask Mary their own questions for the next LiveFAQ and participate in a groundbreaking worldwide thyroid discussion.
About MyMedLab
MyMedLab is a leading provider of direct-to-consumer laboratory testing services. MyMedLab has developed a unique suite of software applications and professional networks that enable the ordering, processing, and reporting of test results directly to consumers. MyMedlab.com allows consumers to access test results in 6 easy steps! Step 1. Order test online. 2. MML Dr. Approves. 3. Print lab order. 4. Visit local lab. 5. View results online. 6. Order an expert review. Start making more informed health care choices, visit; http://www.mymedlab.com
About Mary Shomon
Mary Shomon is a patient advocate, writer and communicator who has transformed her own struggle with thyroid disease into an advocacy campaign on behalf of patients with chronic diseases such as thyroid disease, autoimmune conditions, and chronic fatigue.
Mary is the author of the New York Times best-selling book The Thyroid Diet: Manage Your Metabolism for Lasting Weight Loss. (2004) "Thyroid Diet" was also a semi-finalist for the prestigious Quills Awards in 2005. To learn more, visit; https://www.facebook.com/thyroidsupport