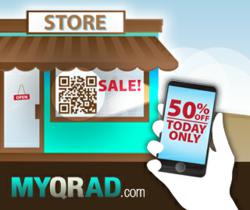 We've freed our customers from the limitations of traditional QR codes."
Jacksonville, FL (PRWEB) March 08, 2013
myQRad, a leading provider of advanced quick response (QR) code solutions, today announced enhancements to its QR code application to offer users increased flexibility. As part of a marketing campaign, myQRad's technology offers business owners an easy-to-use QR code web page creator tool that quickly generates a mobile page, then allows the ability to change the web content that's linked to their QR code.
"We've freed our customers from the limitations of traditional QR codes, which don't allow you to change or update the URL to which the code sends the mobile device user." said Daniel Burgos, myQRad's founder. "myQRad offers a choice of redirecting your QR code to a website or creating your own custom promotional ad page with photos, messages, social media capabilities and more. Best of all, you can change the destination page and content anytime."
The subscription-based myQRad service is a simple way for marketers to reach smartphone and other mobile device users while they're on the go. It also includes a one-click email capture feature that optionally prompts scanners to enter their email addresses before being directed to the website or promotion.
Analytics capabilities allows marketers to easily track activity and statistics, including location, date and scan count, plus the scanner's browser type and operating system. Creating multiple QR codes with the same destination allows for data comparison that highlights which codes receive the most traffic.
myQRad's flexible, enhanced QR code functionality is available now. For a free trial account that provides three QR codes, full analytics, unlimited scans and custom, mobile-friendly web pages, visit http://www.myqrad.com.
About myQRad
myQRad provides advanced, user-friendly QR code technology to businesses and consumers. It allows users to create mobile-friendly web pages with customized content, including functionality for email address capture, tracking and analytics, instant creation of QR code promotions and more. For more information about myQRad, visit http://www.myqrad.com or call 1-888-406-0645.