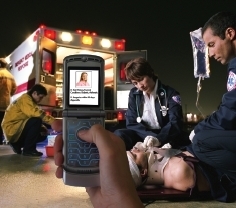 Time and quality information are your best hope for survival in an emergency. ESP just makes too much sense; a ring tone, movie or game on your cell phone is not going to help me save the life of your child, your senior parent or you in an emergency or accident
Marina Del Rey, CA (PRWEB) March 10, 2008
MyRapidMD Corp ("the Company" or "MRMD") a developer of Meaningful Personal Mobile Content and the developer of the award winning personal medical alert service - the Emergency Service Profile (ESP) cell phone application, today announced free lifetime ESP memberships to the first 1000 subscribers as part of its national launch campaign.
Once ESP is installed on a cell phone, the proprietary and potentially lifesaving ESP application provides users personal Emergency Service Profile, including photo identification, at the accident or medical emergency scene to first responders immediately, and without the need of a service connection.
ESP, based on a global emergency assessment protocol used by first responders at emergency scenes, contains information of only one individual, no financial, social security or address information so the ESP information only has value to the user, and the first responder seeking their ESP information. ESP allows first responders to treat users more efficiently, effectively, and accurately in an accident, medical emergency, in transit to the ER and at the ER because now they have immediate access to users Emergency Service Profile when information and time count most, that first hour.
"Time and quality information are your best hope for survival in an emergency. ESP just makes too much sense; a ring tone, movie or game on your cell phone is not going to help me save the life of your child, your senior parent or you in an emergency or accident," said Chief Richard Cole, Chairman of the MyRapidMD Emergency Services Advisory Board, whose members have over 100 years of collective Emergency Response experience.
The Emergency Service Profile is exactly that said Mr. Mark White President and founder, "It provides the critical emergency information and photo ID about a person in an accident or medical emergency. It is not trying to provide an extensive personal health or medical history record of a person, that's what online medical record services such as Microsoft's Health vault, Google Health or WebMD's PHR do, among others. Simply put, time and information saves lives and the trickle down effects directly benefit healthcare, emergency services and their relevant providers. Our goal is to deliver that information as quickly and effectively as possible when needed."
A large majority of service providers and cell or smart phone handsets, including Blackberries, are ESP compatible. Verizon's "Get it Now" browser and the Apple iPhone both currently block outside third party applications. Non- "Get it Now" Verizon customers can however install ESP. If in doubt, go to http://www.myrapidmd.com and select "test your phone".
Both Verizon and Apple have however, indicated they will make Software Development Kits (SDK's) available to content developers by the middle of 2008 and we will develop ESP applications for these devices as soon as they are available.
ESP is not about games, ring tones or movies, it's about your life, your peace of mind and your safety.
Even if their phone is not ESP compatible right now, users still need to sign up. Why? Because they still get all the benefits of the ESP membership pack. And when they do change phones or service providers, login to their ESP account and send your ESP to their cell phone, it's that simple.
With a free Lifetime ESP Membership users receive:

24/7 access to their password protected ESP via the website.
ESP wallet and key chain cards with member ID number.
ESP stickers for a phone and a car windshield decal.
ESP refrigerator magnet for the home with their Name, Sex, Member ID number and 24/7 toll-free call center phone number.
24/7 toll-free automated call center, in case their phone is lost, broken or unavailable. First responders can call to retrieve their full ESP details.
256 bit SSL security: twice the industry standard to protect their information in transit.
To see full ESP membership details go to http://www.myrapidmd.com/benefits.
"There are more than 230 million cells phones in the USA and more than 70% of children over the age of 8 have them or have used them. Cell phones are an inherent part of the American lifestyle and at MyRapidMD we believe your phone should to do more than text, talk & entertain we believe it should care!" said Mr. Damien Vallernaud, MyRapidMD COO.
ESP was selected from over 400 new products and services by EMS magazine, considered the leading global authority on the EMS industry, as one of the top product picks at the National EMS Expo in Orlando, FL in October of 2007. Additionally, MyRapidMD has received one of twelve invitations to present and demonstrate ESP at the Coalition for Disaster Management Solutions Conference (CDMS) sponsored by F.E.M.A. Region IX and The American Red Cross in San Francisco on March 312008.
To learn more about MyRapidMD's personal medical alert service, ESP and its potentially lifesaving benefits, log onto http://www.myrapidmd.com or contact them directly at (877)9GET-MRMD.
Act fast to take advantage of MyRapidMD's national launch promotion by signing up now to get a membership free for life. No sign up fee and no annual renewal fee. Go to http://www.myrapidmd.com and click "Sign Up". At the payment page, enter Promo Code MRMD08CES to get a free lifetime membership.
In today's world it pays to be prepared for life's unexpected emergencies.
"Does your phone have ESP?"™
Privately held MyRapidMD is the developer of the Emergency Service Profile (ESP) proprietary software application. Designed specifically for cell phones and smart phones, the ESP medical alert service provides a concise Emergency Service Profile based on an internationally recognized victim assessment protocol used by first responders. MyRapidMD has formatted this protocol into a medical alert mobile software application that also attaches a photo of the cell phone owner to confirm their identity in emergency or accident situations. ESP is easily retrieved and displayed by first responders on the victim's cell phone at the emergency or accident scene. Developed in concert with Firefighters, Paramedics, Emergency Room Nurses and other first responders,
MyRapidMD's ESP turns the cell phone into an efficient and effective emergency information tool at the emergency scene and while the patient/victim is in transit to the ER.
Contact
Mark White
President
MyRapidMD Corporation
1-877-9GET-MRMD (943 8676) ext 114
info @ myrapidmd.com
###