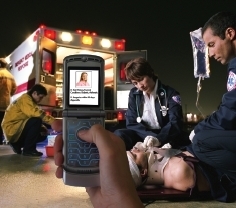 The Andrew Seybold Choice Awards seeks to recognize companies for their ongoing efforts to use wireless technology to positively impact the industry and society
Marina Del Rey, CA (PRWEB) March 13, 2008
Andrew Seybold, Inc., a consulting firm known for its in-depth analysis of the wireless industry, announces MyRapidMD Corporation as a finalist for the Andrew Seybold Choice Awards in the category of Best New Company, Newcomer 2007 for the Emergency Service Profile (ESP) cell phone application; a personal medical alert service for cell phones.
MyRapidMD's ESP is a proprietary 3rd party application based on an internationally recognized emergency assessment protocol used by First Responders at Emergency scenes. ESP contains YOUR, and only your critical emergency medical & contact information including your photo; it contains no financial, social security or address information so the ESP information only has value to the user, and the first responder seeking their ESP information. ESP allows first responders to treat users more efficiently, effectively, and accurately in an accident, medical emergency, in transit to the ER and at the ER because they now have immediate access to a user's Emergency Service Profile when information and time count most, that first hour. Quite simply, time and information save lives and the trickle down effects directly benefit healthcare, emergency services and their relevant providers. The goal of ESP is to deliver that information as quickly and effectively as possible when needed.
ESP received a 2007 top product pick award at the national EMS conference by EMS Magazine, considered the leading global authority on the EMS industry. ESP is globally deployable and includes unique and proprietary privacy fields as part of the application as well as a 24/7 backup call center.
"We are thrilled with the nomination and the recognition that our ESP application has received in such a short period of time. More importantly we are honored that the Andrew Seybold Choice Awards finds MyRapidMD and ESP deserving of a nomination for such a prestigious industry award. We are grateful to be recognized by our industry peers and it is a testament to the faith and hard work of all those working with me at MyRapidMD and a compliment to the focus of our work, and belief, that your cell phone should do more than text, talk and entertain, it should care" - said Mr. Mark White President and Founder.
Each year, companies from around the world nominate visionary wireless products and services that promote positive progress on wireless mobility. All nominations submitted must have been commercially deployed between February 15, 2007 and February 15, 2008. The Andrew Seybold Choice Award recognizes these companies and their unique contributions to the innovation of wireless mobility solutions. Winners will be named on April 1, 2008 at the 18th Annual Andrew Seybold Wireless Dinner at CTIA Wireless in Las Vegas.
"The Andrew Seybold Choice Awards seeks to recognize companies for their ongoing efforts to use wireless technology to positively impact the industry and society," said Andrew Seybold, President and CEO of Andrew Seybold, Inc. "We are proud to publicly acknowledge these exemplary companies."
At MyRapidMD we believe your phone should do more than text, talk and entertain we believe it should care! ™
"Does your phone have ESP?"™
Contact
Mark White
President
MyRapidMD Corporation
1-877-9GET-MRMD (943 8676) ext 114
info@myrapidmd.com
http://www.myrapidmd.com
ABOUT MYRAPIDMD CORP
Privately held MyRapidMD is the developer of the Emergency Service Profile (ESP) proprietary software application. Designed specifically for cell phones and smart phones, the ESP medical alert service provides a concise Emergency Service Profile based on an internationally recognized victim assessment protocol used by first responders. MyRapidMD has formatted this protocol into a medical alert mobile software application that also attaches a photo of the cell phone owner to confirm their identity in emergency or accident situations. ESP is easily retrieved and displayed by first responders on the victim's cell phone at the emergency or accident scene. Developed in concert with Firefighters, Paramedics, Emergency Room Nurses and other first responders, MyRapidMD's ESP turns the cell phone into an efficient and effective emergency information tool at the emergency scene and while the patient/victim is in transit to the ER.
ABOUT ANDREW SEYBOLD, INC.
Andrew Seybold Inc. is dedicated to solving client challenges through strategic consulting, client-specific research and analysis, publications, speaking engagements and educational programs. Company founder Andrew M. Seybold and his partners provide deep technology and business expertise, proven best practices and long-established relationships with industry leaders. Mr. Seybold is highly regarded for his COMMENTARY enewsletter and the Andrew Seybold Wireless University.
For more information, visit http://www.andrewseybold.com
# # #