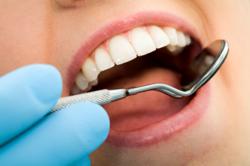 "My gums have stopped receding and they no longer bleed at all "

James L
(Vocus/PRWEB) April 17, 2011
MyReviewsNow is proud to announce a natural remedy in the battle against gum disorders. "The Gum Doctor" solution offers those who have suffered through years of pain an alternative treatment in their fight against chronic gingivitis. It is well known that proper health begins with proper dental care. Ailments such as heart disease and diabetes have been scientifically linked to gum disease, and while there is no substitute for proper dental care including visits to the dentist for regular check-ups and dental cleaning, there are still those who need supplemental help in their fight against chronic gingivitis.
Gum Doctor founder, Joe Johnson, was too a chronic sufferer of gum disease. While Joe would be the first to encourage fellow sufferers to maintain proper dental health by regular brushing, flossing and dental cleaning, he still endured years of gum and oral pain which led him to seek alternative remedies. One day Joe came upon a natural treatment using only organic ingredients and decided to apply it to problem areas along his gum-line. Within days, he noticed and felt vast improvement in both his gums and teeth as well as his overall health. He continued to use this solution as needed and decided to introduce it to his fellow gum sufferers after he felt confident in its success.
MyReviewsNow is excited to help Joe get out the news regarding "The Gum Doctor", and would encourage those with chronic gum disease to try Joe's product for their ailment. In addition to fighting gum disease, "The Gum Doctor" solution has shown promise in treating other oral conditions such as bad breath, canker and cold sores. "The Gum Doctor" is now available at a special rate with reduced shipping and carries a 100% money-back guarantee in the rare event that it doesn't meet expectations. Citing the success stories of Joe's program in others, MyReviewsNow strongly recommends that any gum disease sufferer take advantage of this offer.
###