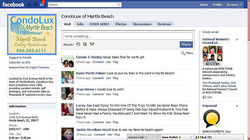 Myrtle Beach, SC (PRWEB) July 31, 2010
Seldom a day goes by that you don't hear a television news show mention Facebook and Twitter. In fact, almost all of them have Facebook business pages, and now "breaking news" travels nearly as fast as it happens. Movie stars, musicians, and other celebrities nearly all have their "pages". Fans of Barry Manilow or Paul McCartney will hear about a new CD or nearby concert as soon as they are available. Oprah Winfrey, Betty White, and even the former Monkees have popular Facebook Pages.
One successful Facebook page is helping to boost business for condo rentals in Myrtle Beach, SC. Well-known rental management company CondoLux Inc opened a branch in Myrtle Beach last year, and office manager Chistian Velasquez joined the hoards of other businesses that found a profitable niche in the social media scene.
Predictably, businesses who offer coupons or giveaways have the most success with Facebook, and Condolux really does the giving away. For the past month, they've been giving a free 4 day vacation to one of their "fans" every three or 4 days. It started out as a way to get new fans, and get them it did. They now have over 11,000 excited potential vacationers visiting the Condolux Facebook Page every day, hoping to be a lucky winner. Christian says he's thrilled to see so many fans interacting on the webpage:
"We've introduced CondoLux of Myrtle Beach to a huge number of new customers that might not have known we had condos in Myrtle Beach now. The North Myrtle Beach CondoLux has been in the business for more than 20 years, and gets an astounding amount of business from repeat customers who prefer staying on the north end. We needed to get the word out about our Myrtle Beach condos, and this is a great way to do that!"
With many of the rental companies and area hotels complaining their business isn't up to par this year, both CondoLux offices are having a record season. Now that the "fans" have a place to meet, post their vacation pictures, discuss the different resorts with each other, and even meet up in Myrtle Beach, many more will become permanent customers...who also refer their real friends and family. And just maybe they will win a free vacation while they do it, too. Facebook seems to be a win-win for both sides of the beach chair.
Those wanting to learn more can visit the CondoLux Myrtle Beach Facebook Page and enter the free vacation giveaway by becoming a fan and watching for the announcements. Booking a luxury condo is as easy as a click on the Myrtle Beach Luxury Rentals website. Both offices offer winter rentals and golf packages from the website as well. More information below:
Condolux of Myrtle Beach, Inc.
Christian Velasquez, General Manager
1240 21st Ave N, Suite 104
Myrtle Beach, SC 29577
866-243-6111 Toll-free
843-417-1880 Local
http://www.MyrtleBeachLuxuryRentals.com
http://www.Facebook.com/Condolux
# # #