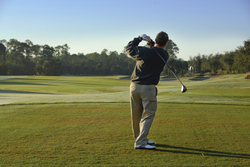 Over this past month, we have seen traffic rise 30 percent.
North Myrtle Beach, SC (PRWEB) July 18, 2010
Only a few months ago, the golf division of CondoLux announced another Myrtle Beach golf record year. Now, aside from already publishing their fall golf rates, and some of the 2011 rates, NorthMyrtleBeachGolf.com has implemented a live chat system to help golfers during their quest for Myrtle Beach golf packages.
"This is the first of its kind on a golf site in Myrtle Beach," said golf director Craig Chinn. "We have already helped a number of people quickly and easily in just the few months it's been up (on the website)."
By utilizing this live chat feature, visitors can interact in real time with one of our seasoned golf directors. From questions about a particular course to accessing directions from your condo, the directors are available for any questions.
"We've seen plenty of websites that allow you to 'book tee times live'," Chinn said. "The problem with those is that maybe if the golfer could switch a few courses around or play this course instead of that one, they could be saving quite a bit of money on their package. Those systems don't tell you that. Now, we can tell the customers that while they are browsing our website."
Launched in June 2010, NorthMyrtleBeachGolf.com's live chat is a vital utility for those wanting instant answers from an actual person. Myrtle Beach golf is one is the largest tourist attractions in the area, and the golf directors for CondoLux pride themselves in customer service.
"Over this past month, we have seen traffic rise 30 percent. I am very excited about interacting with everyone," said Chinn. With live chat, it helps to have veterans who've actually played the courses they offer.
NorthMyrtleBeachGolf.com is also proud to announce that their fall rates for 2010 are now available along with some 2011 rates. Due to the temperatures and sunrise times, fall is the best time for Myrtle Beach golf.
Additional features added to the golf site include a map with directions to and from each golf course from all of the CondoLux rentals as well as their main office. Visitors can view Craig's Corner golf blog for up-to-the-minute updates. Other features include a comprehensive list of courses offered complete with grass type, architect, price, location and ratings. When choosing your next Myrtle Beach vacation, take into account the overall experience and exclusive opportunities the rental company offers.
CondoLux has been in business since 1986, providing vacation rentals, golf packages, and real estate sales to thousands of customers every year. CondoLux Vacation Rentals opened a new office two years ago in Myrtle Beach, expanding their condo rental inventory to include more of the Grand Strand. They offer over 450 Myrtle Beach condos and vacation villas for rental year-round. View the North Myrtle Beach vacation rentals website or the Myrtle Beach condo rentals website.
NorthMyrtleBeachGolf.com
A Division of CondoLux
311 17th Avenue South
North Myrtle Beach, SC 29582
1-800-624-6418
# # #