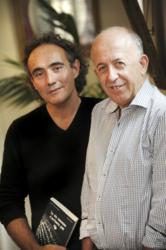 New York Times bestselling author William Martin calls it a terrific new series.
New York, NY (PRWEB) March 26, 2013
Le French Book, a digital-first publisher specialized in bringing France's top mysteries and thrillers to new readers across the English-speaking world, just signed on another two novels in the Winemaker Detective series by Jean-Pierre Alaux and Noël Balen. The first in the series, Treachery in Bordeaux, is already available. It is both a mystery and a wine novel.
The Winemaker Detective series delves into the underworld of a global luxury industry, where there's money, deceit, death, crime, inheritance, jealousy—all the ingredients needed to distill a fine detective series. It follows master winemaker and critic Benjamin Cooker and his sidekick Virgile Lanssien in their adventures solving mysteries in vineyards throughout France and beyond.
In France, the series is published by the major publishing house Fayard, which releases two books a year in the series. It is also a hit on French TV. Season three is airing now.
This is a fitting fate for this series, which the authors say, "began while we were sharing a meal, with a bottle of Château Gaudou 1996, a red wine from Cahors with smooth tannins and a balanced nose. During the dinner, our conversation heated up as we discussed fiction adapted for television. There were no series that mixed elements of France's cultural heritage with a mystery plot, there were no recurring characters that brought together terroir—local history and tradition and flavor—and a whodunit. What we needed was a fictional hero involved in one of the areas where the French excel. We needed a character that could go from one region to another, could touch on all the various aspects of winemaking, from grape growing to bottling. It became clear that it could be none other than a winemaker, an expert who in and of himself symbolizes both the knowledge and the way of life."
Jean-Pierre Alaux is a magazine, radio and television journalist when he is not writing novels in southwestern France. He is a genuine wine and the grandson of a winemaker. His co-author Noël Balen lives in Paris, where he shares his time between writing, making records, and lecturing on music. They are currently writing the twenty-first and twenty-second books in the series.
Anne Trager, founder of Le French Book, says, "I'm happy to continue this wine-and-crime series. It's got such a great sense of setting, and conveys this very French appreciation for wine and food. Every book is like sitting down for a long meal with French friends."
Treachery in Bordeaux establishes the characters for the series. The protagonist, Benjamin Cooker, is in his fifties, at the top of his career and has a distinguished English gentleman veneer. His sidekick, Virgile, is the young, handsome, sexy one representing the younger generation. Benjamin is the winemaker par excellence, whose vocation is to help wine estates around France and elsewhere to make great wines. On French television, the part is played by French actor Pierre Arditi, who loves adapting this series because the character's sensibilities, culture and personality help him solve the cases. A winemaker's analytical ability, based on sensory perception and details, is not so far from that of a police inspector.
In the second book in the series, readers travel to Paris and the Loire valley, as the heroes try to understand a strange series of heists. The third is set in Burgundy, France's other key wine-making region, where the Winemaker Detective must solve a mystery revolving around messages from another era.
Praise for Treachery in Bordeaux:
"I love good mysteries. I love good wine. So imagine my joy at finding a great mystery about wine, and winemaking, and the whole culture of that fascinating world. And then I find it's the first of a series. I can see myself enjoying many a bottle of wine while enjoying the adventures of Benjamin Cooker in this terrific new series." —William Martin, New York Times bestselling author of Back Bay and The Lincoln Letter
"Treachery in Bordeaux is a fine vintage forged by the pens of two very different varietals. It is best consumed slightly chilled, and never alone. You will be intrigued by its mystery, and surprised by its finish, and it will stay with you for a very long time." —Prize-winning, bestselling author Peter May
"The journey through its pages is not to be rushed." —ForeWord Reviews Winter Edition
Contact Le French Book for review copies.
Click here for the online media kit.
About Le French Book
Le French Book (http://www.lefrenchbook.com) is a New York-based e-book publisher specialized in great reads from France. It was founded in December 2011 because, as founder Anne Trager says, "The recent explosion in e-reader ownership provides a perfect medium to introduce readers to some of these fantastic French authors." Anne has lived in France more than half of her life, has 26 years of experience in the translation business and 15 in publishing. Co-founder Fabrice Neuman is French and the company's tech consultant. He is one of France's foremost proponents of e-books and one of the first French journalists to write about them in the mid-1990s. The core team also includes the American translation editor Amy Richards, who is based in Ohio and has a long, award-winning career in writing and editing.
©2013 Le French Book, Inc. All rights reserved. Information is subject to change without notice.