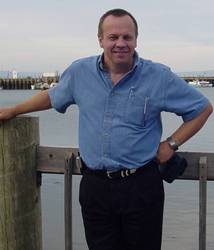 And I have always wanted to read and write about them.
Racine, Wisconsin (PRWEB) February 18, 2009
Michael Miller announces the release of his new book, "The Sixth Lobe." See it and many reviews at Amazon and Barnes & Noble. If you are looking for something bold and fresh with a sense of humor, this emerging fiction writer will satisfy that itch.
"The Sixth Lobe" is a mix of mystery, suspense, science and crime that tells the story of Danny Wilson, a young child afflicted with a rare brain mutation.
News of his mutation leaks out, putting Danny and his family in danger. A local detective befriends the family to protect Danny from several sources seeking to control him for financial gain.
Miller said his inspiration came from old classic novels, and the need for everyday action-heroes.
"I have always liked books and movies about regular heroes helping the defenseless who are facing seemingly insurmountable odds," Miller said. "And I have always wanted to read and write about them." Put yourself in the shoes of the detective who risks all to protect Danny from numerous predators.
Buy The Sixth Lobe At Amazon
Buy The Sixth Lobe At Barnes & Noble
Buy The Sixth Lobe At Barnes & Noble
###