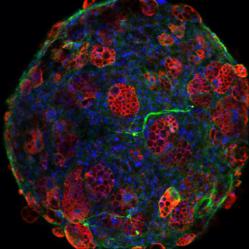 Houston, TX (PRWEB) November 27, 2012
Nano3D Biosciences (N3D), a life sciences technology company that specializes in three dimensional (3D) cell culturing products for the drug discovery, toxicology and life science research markets announced today that its technology was recently used in a breakthrough stem cell study. The Bio-Assembler's fusion of magnetic levitation and nanoparticle assembly technology allows it to produce accurate 3D representation of in vivo tissue faster and easier than any other existing tools.
Dr. Mikhail Kolonin, an associate professor at the University of Texas Health Science Center at Houston, and Dr. Glauco Souza of N3D authored a study that demonstrates how effective 3D cell culturing by magnetic levitation is in generating white adipose tissue organoids or adipospheres, using the Bio-Assembler™.
A significant breakthrough was that the 3D structures presented vascular-like structures when pre-adipocyte stem cells were co-cultured with endothelial cells: Refer to "Adipose tissue engineering in three-dimensional levitation tissue culture system based on magnetic nanoparticles," as published in the journal Tissue Engineering C.
"We are particularly excited about the next phase of development where we will expand on this work to study the relationship between obesity and cancer using human cells within an in vitro and 3D cell culturing configuration," said Nano3D Biosciences CEO David Lee. "This next phase will build on the results from our paper and the very recent results published by Dr. Kolonin in Cancer Research, entitled "Stromal progenitor cells from endogenous adipose tissue contribute to pericytes and adipocytes that populate the tumor microenvironment", where his group used a mouse model to probe the relationship between cancer, obesity, and stem cells, including cancer stem cells".
N3D is also currently sponsoring an international travel grant contest for young researchers to implement this new 3D cell culturing technology. Researchers can submit data of their work using the Bio-Assembler™ to be considered for the Mad Scientist Contest go to http://www.madscientistn3d.com.
About Nano3D Biosciences (N3D) N3D is the award recipient of the Texas Emerging Technology Fund (TETF), National Science Foundation SBIR (Phase I and Phase II) awards, and the Goradia Innovation Prize. Located in Houston, TX this highly innovative biotech start-up is already making waves in the Biotechnology and Nanotechnology industry. Most recently, the company was featured in Nature Nanotechnology and MIT Technology Review (Bio-Assembling in 3-D with Magnetic Levitation - Technology Review) for its state-of-art 3D cell culturing technology.