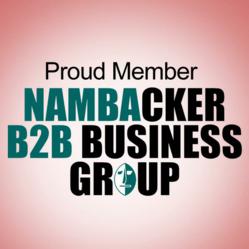 The philosophy of NAMBACKER B2B is 'Providers Profit'
Portland, OR (PRWEB) March 29, 2013
With "Providers Profit" as their mantra, Namba Gear announced the formation of NAMBACKER B2B, an MI (Musical Instrument) manufacturer/distributor business-to-business networking group. The announcement follows the recent NAMM Show in Anaheim, CA.
Two industry veterans launched the network at the 2013 NAMM Show. Woody Moran is owner of Namba Gear, a bag and accessory company that produces high-performance carrying solutions specializing in laptop backpacks and bags for musicians. John Maher owns Maher Marketing, a strategy and production company specializing in the music products industry. The two first met 30 years ago and became good friends back in 1998 when Moran was M-Audio's national sales manager and Maher was NAMM's director of communications. Woody maintains a healthy OEM business and also sells his Namba Gear backpacks into lifestyle industries like skateboard, college and sports. John has also diversified with clients in real estate, wedding and wine country tourism. Both are practicing musicians.
According to Woody Moran, every other industry he deals with has well-established manufacturer business-to-business networking groups that help one another with product bundling, endorsers, seasonal promotions and business referrals. And while there are great mixer organizations in the MI industry like NAMM, GAMA, MENC, etc., nowhere is there a business network designed specifically for manufacturers and distributors. "Because a backpack is one of the most essential yet non-competitive products you can think of in the musical instrument business, it made sense that a backpack manufacturer would be the perfect choice to get the ball rolling in our industry." he said. To that end, the name "NAMBACKER" was conjured, combining the Namba Gear name with the "got your back" aspect of a traditional B2B networking team.
At the Anaheim convention, Maher recruited 33 NAMM exhibitors as the founding members. To help kick off the relationship, Maher was assigned the honor of producing videos for each new member, shot right there in the exhibits, featuring the company's profile and product benefits. Those videos can be viewed by clicking here: http://www.youtube.com/NAMBACKER. A facebook page has also been created which can be visited by clicking here: http://www.facebook.com/NambackerB2BNetwork
According to Woody Moran, NAMBACKER B2B founding members were able to sign up for free at the show, with a small administration fee required for new members going forward. The founding member list includes a wide variety of product manufacturers from traditional to high-technology along with a great representation from music education manufacturers dedicated to developing our future market. NAMBACKER founding members are in the process of exchanging logos, company profiles and already sharing individual email messages to learn more about one another.
Moran commented that one of the most obvious benefits from this group is the opportunity for product bundling. He used the example of how founding member Aurisonics, maker of in-ear monitors, could collaborate with Ear Peace, maker of in-ear volume protection, addressing both the music maker and the passive listener. Another example would be AJP Drums and Exodus Cymbals, high-end percussion that could be bundled for micing the entire outfit using one of Rapco Horizon's Pro Series stage snakes. Another founding member, band and orchestra instrument manufacturer Universal Melody Distribution, could collaborate with Hamilton Stands and Air Turn for a very creative bundle of instrument, instrument stand, and high tech performance support tool. The possibilities are limited only to the imagination of the individual NAMBACKER member.
According to John Maher, the mission of the new NAMBACKER B2B Network is to "provide music manufacturers and distributors a platform where its members can increase their business through constructive interaction that allows them to develop long-term relationships that matter."
"The philosophy of NAMBACKER is 'Providers Profit'". he said. "By providing business referrals and market collaboration to other manufacturers, you will profit in return. With this structure, the goal is for each member to learn from the others that networking is more about planting than it is about sewing; its also about getting more from the group than we can get on our own… all for the benefit of our dealers and for the end user."

About Namba Gear:
Namba Gear is a Portland, Oregon based bag and accessories company that designs and produces premium, high performance transport solutions for the working musician. The essence of the brand is defined by the working musicians and dj's at Namba Gear who are dedicated to creating and delivering exceptional carrying solutions that will stand up to the unique and rigorous workload of professional musicians.
About Maher Marketing:
Maher Marketing is a Petaluma, California based marketing company specializing in strategy, web consulting, art design, video production, email management, artist relations, product launches, sales meetings and trade shows along with the "Petaluma Pete" persona; a Certified Tourism Ambassador for Sonoma and Napa County Wine Country.