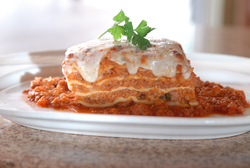 Never will you feast on better lasagna.
Naples, FL (Vocus) September 15, 2009
Home chefs often struggle when making the much-loved Italian dish, lasagna, says Jack Serfass, co-owner and founding executive chef of the Naples Tomato restaurant in Naples, Florida. They struggle to hit that perfect spot between an overcooked square and a mushy pile that immediately collapses when taken out of the pan.
To help home chefs, Naples Tomato today offered its tips for building the perfect lasagna. Of Naples Tomato's lasagna, The New York Times said: "Never will you feast on better lasagna." The restaurant has served more than 100,000 lasagnas since it opened, and today serves nearly 35,000 lasagnas a year.
While the recipe for his lasagna remains a closely guarded secret, Jack Serfass shares these four tips for building a better lasagna:

Use impastata ricotta cheese, available in Italian markets. Impastata is the highest-quality layer of ricotta that emerges from the cheese-making process and it has the lowest water content. Impastata ricotta makes the lasagna stand up better; it requires fewer eggs to soak up excess water (adding too many eggs can result in an eggy vs. cheesy consistency).
Amplify the flavor of the ricotta to create a flavorful filling, by adding ingredients that "pull" the flavor and sweetness from the cheese. Naples Tomato uses sautéed garlic, fresh basil, and other fresh herbs (never dried herbs).
Don't be too heavy-handed with the sauce; it should complement but not overwhelm the rest of the lasagna ingredients. A good lasagna sauce should also be cooked for several hours before it goes into the lasagna.
Use fresh pasta made by the lamination method instead of the extrusion method. (Both are popular methods of making pasta by hand.) The lamination method involves running the pasta through the machine once, then folding it over and over on itself, before running it through again. This takes more time, but results in noodles that have hundreds of layers. The pasta is more porous (so it absorbs the sauce better) and it is more textured (so it helps the lasagna to stand up).
For more advice on building the perfect lasagna, download the free document
"How to Build the Perfect Lasagna - An Interview with Naples Tomato's Jack Serfass" at http://filetwt.com/f/hz53dc2b04.
About Naples Tomato
Naples Tomato is your place for Vine Dining.™ Vine Dining is a uniquely American way to experience the Mediterranean lifestyle, where every meal is a celebration of life. You can effortlessly match inventive cuisine and unusual wines to your mood, the moment and your budget. You can enjoy a glass of wine with cheese before the theatre, or a simple bowl of pasta or perfectly prepared fish at an intimate table, or a special family dinner with wine pairings. Naples Tomato offers Neapolitan fare reinvented with American flair: homemade pastas, award-winning lasagna, fresh local fish and other specialties in creative preparations.
Contacts:
Janice Brown, Janice Brown & Associates, Inc., (603)764-5800
Jack Serfass, Naples Tomato (239) 598-9800.
# # #