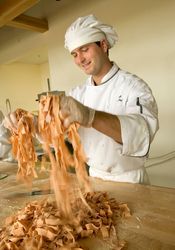 We were inspired by the wonderful village restaurants that are institutions in the Mediterranean lifestyle, offering homemade food and imaginative wine lists
Naples, FL (Vocus) October 15, 2009
Naples Tomato, a nationally recognized restaurant and local institution in Naples, Florida, today announced its plan to expand through franchising. Naples Tomato offers a uniquely American approach to Mediterranean food and lifestyle - Vine Dining™ - that delivers the value and flexibility of casual dining with the casual elegance of finer dining.
Naples Tomato Franchising, LLC will initially award Naples Tomato franchises in the Eastern United States. The franchise program was developed with the help of Chicago-based iFranchise Group, Inc., and the law firm of Faegre & Benson LLP. Franchising has been a successful strategy for many restaurants, including Brinker International (NYSE: EAT) restaurants, and Yum! Brands (NYSE: YUM).
Founded in 2005 in Naples, Florida, Naples Tomato has a strong track record. It has been field-tested by nearly 300,000 guests, and refined with constant feedback from a discerning and well-traveled clientele.
"We were inspired by the wonderful village restaurants that are institutions in the Mediterranean lifestyle, offering homemade food and imaginative wine lists," said Jack Serfass, co-founder/co-owner of Naples Tomato and Naples Tomato Franchising, LLC. "Vine Dining's the antidote to one-size-fits-all dining experiences. It has broad general appeal, from young people on first dates to families to people celebrating their 100th birthdays."
"Vine Dining is a bold new concept that fills a gap in diners' lifestyles and in the restaurant-franchising industry," said Mark Siebert, CEO of iFranchise. "Based on my work with hundreds of restaurant concepts in over 30 years in franchise consulting, I believe Naples Tomato is a solid concept with the support of an established organization behind it, and one that is primed to expand."
Naples Tomato's Vine Dining concept combines American culinary inspiration with the characteristics of the Mediterranean lifestyle:

Flexibility - a personalized experience every time, no matter what diners spend, what they choose to eat, or how much time they stay
Homemade food made from fresh ingredients by skilled culinary experts
Great value - fine-dining quality at budget-friendly prices that match diners' lifestyles
Spirited service and personal engagement with all the people behind the food and wines
Good neighbor, friend and active part of the local community
Bringing Vine Dining to America
To bring its distinctive brand to the broader market, Naples Tomato is taking a unique approach to franchising: one that emphasizes people connections as much as system connections.
"We will be awarding a limited number of franchises in 2010, and we're seeking franchisees that view the opportunity as more than just a business," said Serfass. "Prospective franchisees must want their restaurants to be active in their communities and they should share a love of great food and wine. Our goal is to build a vine, not a chain, that brings together franchisees with a franchise system that connects people to people, winemakers to guests, and the business with the community."
The typical Naples Tomato franchise store will occupy approximately 7,000 square feet and serve about 220 guests with indoor and outdoor seating. The stores will feature an open-concept kitchen, upscale "bistro-style" décor and a private pasta-kitchen dining alcove. They will also have a full bar, an extensive wine program, and a wine lounge with self-service wine bar (enomatic). The stores are designed to be flexible, so they can work in suburban malls, hotels, outparcels, and other high-traffic locations.
Naples Tomato's franchise model contains systems and rigorous controls to ensure that the Naples Tomato brand experience is successfully replicated in other markets. At the same time, each restaurant will be slightly different based on its location and the local market. Franchisees have the flexibility to tailor their stores to their personalities, their own love of food and wine, and their local markets.
For example, all the restaurants will make all their food on site, not from pre-frozen materials shipped from a central commissary. This means that they can take advantage of locally grown and produced ingredients in executing their recipes.
Naples Tomato franchises offer opportunity for:
Restaurant owners or investors who want to diversify their portfolios
Culinary business owners who want to expand into new areas
Successful entrepreneurs who want to get into the restaurant business
Area development agreements are available.
Naples Tomato has received local and national recognition, including a Wine Spectator ''Best of Award of Excellence'' award for its wine program for the last three years in a row. Naples Tomato customers tend to be highly involved in "their" restaurant, providing feedback, ideas, and referrals. Naples Tomato has an email list with more than 8,000 members, who automatically become members of the restaurant's wine club. It also has thousands of followers on social media sites such as Twitter and Facebook.
For more information about franchises, go to http://www.naplestomato.com or call 877-510-VINE (8463).
Franchises are subject to state and local regulations and may not be available in all states.
Financial Note
Our company-owned Naples Tomato restaurant located in Naples, Florida, earned total revenues of $3,164,701 in 2008 and $3,180,558 in 2007. These figures are actual total revenues earned by our one company-owned restaurant, and no other company-owned or franchised restaurants exist as of the date of this press release. There is no assurance other franchised restaurants will do as well. Anyone relying on these figures must accept this risk. These results are published in our October 2009 Franchise Disclosure Document.
About Naples Tomato
Naples Tomato is your place for Vine Dining™. Vine Dining is a uniquely American way to experience the Mediterranean lifestyle, where every meal is a celebration of life. You can effortlessly match inventive cuisine and unusual wines to your mood, the moment and your budget. You can enjoy a glass of wine with cheese before the theatre, or a simple bowl of pasta or perfectly prepared fish at an intimate table, or a special family dinner with wine pairings. Naples Tomato offers Neapolitan fare reinvented with American flair: homemade pastas, award-winning lasagna, fresh local fish and other specialties in creative preparations. The flagship Naples Tomato restaurant is located at 14700 Tamiami Trail N, Naples, FL, 34110, telephone 239-598-9800.
Contacts: Janice Brown, Janice Brown & Associates, Inc., jbrown (at) janicebrown (dot) com, (603) 764-5800 or Jack Serfass, Naples Tomato Franchising, LLC, jack.serfass (at) gmail (dot) com, (877) 510-VINE (8463).
###