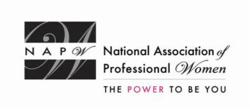 If any of our members win the makeover, we will be awarded $5,000 dollars to give to a charity of our choice!
Garden City, NY (PRWEB) March 20, 2013
Members and guests of the NAPW Carrollton, TX Local Chapter gathered on February 28th for a professional networking meeting and the Chapter's official launch.
Plans were made for upcoming events including involvement in a Mary Kay Makeover Contest that will award $5,000 to a favorite charity.
The Chapter is also looking into supporting a charity for military wives. Prior to the official launch event, the group of professional women gathered at networking meetings in January, as well as October, November, and December of last year.
In February, NAPW Carrollton Local Chapter President Robin Jackson welcomed all to the Chapter's launch meeting.
After members and guests had the chance to network and get to know one another, the President introduced the guest speaker, Kelley Adams, a Registered Nurse (RN).
"Kelley Adams told us about her two start-up companies," said the Chapter President. "She explained what she does and how we all could benefit from her services."
Ms. Adams' two businesses are CPR Express LLC and Kelley's Medicine Mgmt LLC. She has been an RN since 1983 and has taught high school seniors and CPR since 1995. Ms. Adams also has been a home healthcare nurse.
After the presentation, the Chapter President announced that Chapter members had decided to participate in the Mary Kay Makeover Contest. Chapter member Julie Johnson will be scheduling the makeovers.
"If any of our members win the makeover, we will be awarded $5,000 dollars to give to a charity of our choice!" said Robin.
It was also announced that Chapter member Mary Jumao-as will be doing research on charities that are committed to helping military wives.
The group of professional women hopes to work with one in the near future to support wives of those who serve our country.
Members and guests decided on speakers for April and May meetings and member Carolyn Cummins announced she is going to start a hot yoga studio and once opened, she offered to host a monthly meetings.
"The Carrollton Chapter is very positive and growing strong!" said the Chapter President.
In January, members and guests discussed future guest speakers and meeting venues. Last December, the group of professional women celebrated the holidays with dinner and a gift exchange, and in November, the group hosted Nancy Lie-Winters.
The Owner of the website womensecurityoutlet.com, Ms. Lie-Winters sells protection for women such as mace, stun guns, and concealed handgun purses. In her informative presentation, the speaker enlightened the group about what women need to do to protect themselves. The first meeting of the Carrollton Chapter was held last October, where members and guests collected $50 to adopt an Angel for Christmas.
The National Association of Professional Women (NAPW) is the largest and most recognized network of female professionals. NAPW provides a forum where women can interact, exchange ideas, educate, network, and empower. NAPW Local Chapters allow members to maximize their experience through meetings, networking opportunities, and professional events.
For additional information regarding the NAPW Carrollton, TX Local Chapter and/or NAPW, please visit http://www.napw.com.
Follow NAPW on Facebook and Twitter.
###