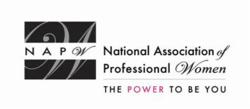 In her presentation, '5 Simple Strategies To Keep More Money in Your Business' Sherrell shared her financial expertise with members and guests and gave us excellent tips for making our businesses successful.
Garden City, NY (PRWEB) December 11, 2012
Members and guests of the NAPW Alexandria, VA Local Chapter gathered on November 27th for a professional networking meeting at LRB Business Centers, Inc. The evening's guest speaker, finance expert and Chapter member Sherrell Martin of A&S Financial, shared with the group of professional women tips and advice for keeping more money in their businesses. Members and guests also discussed a new meeting venue to accommodate the rapidly growing Chapter that now boasts 56 new members.
NAPW Alexandria Local Chapter President Andrea Hancock warmly welcomed members and guests to the November networking meeting. She introduced the evening's guest speaker and Alexandria Chapter member Sherrell Martin of A&S Financial, which helps small business owners become more financially organized while also helping individuals become better prepared for their financial future.
"In her presentation, '5 Simple Strategies To Keep More Money in Your Business' Sherrell shared her financial expertise with members and guests and gave us excellent tips for making our businesses successful," said Andrea.
Sherrell's presentation helped the group of professional women find ways to keep the GREEN in their pockets:

G – Realigning your Goals: Focus on one or two services that complement one another rather than two very different business models/products or services.
R – Relinquish Control: Delegate tasks that you don't enjoy nor do well so that you can focus more on growing the business.
E – Educate Yourself: Take time to educate yourself on financial terms and be able to read your financial statements and have a basic understanding of what is involved.
E – Eliminate Cash Exhaustion: Set a salary that is realistic to your business revenues brought in; avoid mixing charges that are personal with business. Use business funds for business expenses.
N – Nurturing Your Business: Nurture your business by reinvesting. Take classes in the area of expertise you are working, hire a business coach, etc.
The Chapter President announced the new Chapter Board positions that had been filled: Janet Shipko-Secretary and Karina Lacaria-Director of Programs. She also addressed the need for a new meeting place that will be large enough for the growing Chapter.
"We are looking for accommodations that will hold everyone, allow for a speaker, and with appropriate noise-levels for networking," said Andrea. "LRB Business Solutions has offered a pro-bono conference room for 12 but we fear we will soon outgrow this space. Jan Spence suggested a laid-back room in a restaurant in Old Town with no policy on spending."
Also discussed during the networking meeting were the Chapter's latest efforts for making a difference in the community including the connection Chapter President Andrea made with SCANN, a nonprofit in Alexandria that focuses on ending child abuse, and the Chapter's upcoming Cash Mob event targeting a small business in Old Town or Del Ray.
"We hope to work with SCANN in the near future either collaboratively or supportively," she said. "The Alexandria Chapter Cash Mob idea is coming along. It will include a small bakery, coffee, or candy shop, or a clothing boutique. Names have been suggested and will be explored."
The next Alexandria Local Chapter meeting will be held December 18th at LRB Business Solutions.
"At the December meeting, the Chapter's Board of Directors will discuss plans for 2013 including speakers, venues, activities, and collaborations. It will be an exciting year for the NAPW Alexandria Chapter!" said Andrea.
Attendees at the November meeting were:
Charlotte Kelley, Commercial Lending Portfolio Manager for accessnationalbank.com.
Kim Nguyen, CFEd®College Consultant with heartlandfinancialeducation.org.
Jan Spence, ASID, LEED AP, Owner of Pearl's Design Solutions, an Interior Design company specializing in space planning and project management for kitchen and bathrooms.
Lisa Derkazarian, Independent Style Consultant with J. Hillburn, a men's clothier.
Stacy Huber, Owner of kwikwerk.com, a virtual assistant company specializing in executive services, virtual events, and eMarketing. She is also NAPW Alexandria Chapter Director of Public Relations.
Agnes Johnson, Mentor and Motivational Speaker.
Sherrell Martin, Partner in asfinancialllc.com, which is migrating to Empowered To Thrive, a full-service accounting firm that also incorporates business coaching for small businesses and entrepreneurs trying to achieve financial success.
Andrea Hancock, Owner and Head Organizer of bdexterous.com, a professional organizing consulting firm that specializes in helping busy professionals at home and in their small businesses to live efficiently. Andrea is also NAPW Alexandria Local Chapter President.
Adrienne Fikes, mysoulpower.net, coaches creative thinkers and problem-solvers achieve their goals in business and life.
Lisa Elliot, Owner of, alittlebash.com, an event planning company specializing in small events of 100 guests or less. The National Association of Professional Women (NAPW) is the largest and most recognized network of female professionals.
NAPW provides a forum where women can interact, exchange ideas, educate, network, and empower. NAPW Local Chapters allow members to maximize their experience through meetings, networking opportunities, and professional events.
For additional information regarding the NAPW Alexandria, VA Local Chapter and/or NAPW, please visit http://www.napw.com.
Follow NAPW on Facebook and Twitter.
###