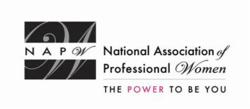 Garden City, NY (PRWEB) July 20, 2012
Members and guests of the NAPW Baltimore Local Chapter met June 20 for a professional networking meeting at Alpert's Perfectly You, 10912 Reisterstown Road, Ownings Mills. Owned and operated by member Teresa Alpert-Leibman, a certified Orthotist, members were treated to an informative overview of Teresa's expertise in prosthetics and enjoyed an evening of networking.
Highlighting a member's career each month was the brainchild of Teresa, who made the suggestion at last May's meeting, that members should take turns hosting the networking meetings. All of the members agreed and NAPW Baltimore Local Chapter President Jennifer Garcia suggested Teresa have the honor of being the first host. Teresa enthusiastically agreed.
As a certified Orthotist, Teresa is a trained healthcare professional whose expertise includes orthopedic and somatic prostheses. She patiently explained to members about her business and went into particular detail about her work with breast cancer patients. All members found the evening to be extremely informative and interesting, said the Chapter President.
"Teresa gave a tour of her facility and discussed the range of medical equipment, supplies, and orthodontic products she offers such as prosthetic limbs. Among her products were breast prostheses for breast cancer patients who've undergone a mastectomy or lumpectomy. Those in attendance were amazed at how accurate the breast prostheses were and that they come in a range of colors to match the patient's skin tone," said Jennifer.
Member Jennifer Garcia said, "Having toured her facility, I came away with a much better understanding of the products and services Teresa offers," said Jennifer Garcia.
The host for next month's meeting, which will be held July 18 at 5:30pm, will be member Tamera Swan- Mason. Tamera will give a presentation about her bath products business White Swan, Inc. The networking meeting/pool party will be held at her home.
The following members were in attendance at the Baltimore Local Chapter June meeting:
Teresa Alpert-Leibman, entrepreneur, Certified Orthotist. In addition Alpert's Perfectly You, Teresa is also a Reiki practitioner and Juiceplus Affiliate. Previously, Teresa owned a pharmacy and later ran a home and hospice care business.
Sabrina Owens recently started a business, Solo Te, organizing tea party events. Sabrina is also an associate for Organo Gold Coffee, which combines health and coffee by using an ancient herb that has the ability to help improve the body's healing capacity, and longevity. She is also a Pastor.
Baltimore Local Chapter President Jennifer Garcia is the Owner and President of Logicreative, a marketing and design business specializing in brand marketing and social media strategy. Logicreative offers a wide range of services including web and graphic design to help businesses build their brand and social media management services.
Laurie Mason, representative for Evolv, a wellness company. Improve your health by completing the e84 Challenge, achieving your health target in 84 days. Evolv offers health products, guidance, and support for getting fit, losing weight , increasing energy and vitality, and optimizing health of active/athletic individuals.
Linda Mathieu, licensed Certified Public Accountant, working in the field of retirement planning for over 30 years. Linda designs and administers retirement plans helping her clients avoid tax liabilities. Linda is also a representative for Melaleuca, a green company offering green home cleaning products, vitamins, and more.
The Baltimore Local Chapter will hold its first virtual meeting in August. Other scheduled networking meetings, which are always held the third Wednesday of the month at 5:30pm, include September's meeting, to be hosted by member Laurie Mason and November's meeting, to be hosted by member Linda Mathieu. To stay updated and connected, Chapter President Jennifer Garcia invites members to join the Baltimore Chapter Page at napw.com/chapter/99/baltimore/ as well as its groups on Facebook at facebook.com/groups/248722601830175 and Linkedin at linkedin.com/groups?gid=4098083&trk=hb_side_g.
The National Association of Professional Women (NAPW) is the largest and most recognized network of female professionals. NAPW provides a forum where women can interact, exchange ideas, educate, network, and empower. NAPW Local Chapters allow members to maximize their experience through meetings, networking opportunities, and professional events.
For additional information regarding the NAPW Baltimore Local Chapter and/or NAPW, please visit http://www.napw.com.