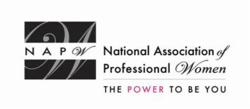 This will serve as a platform for Dutchess County Chapter members to gain added exposure and build on the positive image of the Chapter.
Garden City, NY (PRWEB) November 07, 2012
Members and guests of the NAPW Dutchess County, NY Local Chapter gathered on September 25th for a professional networking meeting at Bank Square Coffeehouse, 129 Main Street, Beacon, NY. Attendees had the opportunity to network during the meet and greet portion of the meeting, discuss the many benefits of NAPW membership, and talk about ways the Chapter may get more involved in community activities and local charities.
"We had a nice turnout at this month's networking event. Thanks to the NAPW new Chapter blast, members were aware of the meeting," said Dutchess County Chapter President Darlene Haywood.
As they arrived at the meeting venue, members and guests were encouraged to introduce themselves to one another. After the initial meet and greet, the Chapter President officially gave a warm welcome to everyone, then briefly spoke about NAPW, the largest network of female professionals. She shared the joys and benefits of joining NAPW from a personal perspective.
"I encourage all members to become active and committed to the growth of the Dutchess County Chapter," she said to the crowd. "Each member should give consideration to taking a leadership role and apply their talents toward establishing the Dutchess County Chapter."
Darlene encouraged member to utilize the many tools NAPW offers its members that allow them to network, build communication, and establish relationships with each other and the entire NAPW membership.
"All of you are what I call 'Grass Root Entrepreneurs' and there are so many exciting ways NAPW can help you with your business and career endeavors," said Darlene.
Many of the members and guests asked, "How can my membership in NAPW support and enhance the growth of my business." In response to this, Darlene suggested that at the next meeting, the major objective would be to explore NAPW's website so everyone is familiar with the essential tools available to maximize their membership benefits.
"We also decided that for the next few meetings, one member form the Dutchess County Local Chapter will present on her business/services," said Darlene. "A member 'Spotlight Calendar' will be scheduled so that everyone will have the opportunity to participate."
In addition to the Spotlight Calendar, the Dutchess County Local Chapter will identify community activities it may become connected with and how this will benefit the Chapter and its members.
"This will serve as a platform for Dutchess County Chapter members to gain added exposure and build on the positive image of the Chapter," said Darlene.
Darlene spoke, too, about the importance of the Chapter's involvement in a local charity. Member Victoria Colon made a suggestion that will be followed up at the next meeting. Invited guest Denise Gaither also hosted a 'Woman's Outreach Workshop' on October 27th. All proceeds went to 'A Woman in Need,' a locally based community charity.
In celebration of Breast Cancer Awareness Month, Sarah Graby volunteered to follow up on local community activities in which the Chapter could participate. Sarah designs scarves for cancer patients.
Carole Vincie recommended a photographer for a group picture and individual photographs. Other items discussed during the meeting included: the importance of updating your NAPW Profile Page and including a photograph; making a connection to other members; networking with other NAPW Local Chapters within reach; building the Chapter's social media presence; planning social activities; and the NAPW Annual Conference.
"The September Dutchess County Local Chapter meeting was a success. Everyone left with enthusiasm and excitement about moving forward," said Chapter President Darlene.
The last Tuesday of each month will be reserved for the Chapter's monthly meetings. Attendees at the September meeting included members Darlene Haywood, ShaqeKalaj, Victoria Colon, Sarah Graby, and Carol Vincie, and guest Denise Gaither.
The National Association of Professional Women (NAPW) is the largest and most recognized network of female professionals. NAPW provides a forum where women can interact, exchange ideas, educate, network, and empower. NAPW Local Chapters allow members to maximize their experience through meetings, networking opportunities, and professional events.
For additional information regarding the NAPW Dutchess County Local Chapter and/or NAPW, please visit http://www.napw.com.
Follow NAPW on Facebook and Twitter.
###