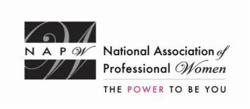 Everyone spent a great evening together networking, listening to Fradel Barber's inspiring presentation, and enjoying the cocktail hour, which was organized by Janice Rimler, the Chairperson of the fundraising Committee...
Garden City, NY (PRWEB) November 13, 2012
Members and guests of the NAPW Forest Hills, NY Local Chapter gathered on September 20th for a professional networking meeting at 104-60 Parker Towers in Forest Hills. The event was jointly organized by the Forest Hills, NY and Jamaica, Queens, NY Local Chapter Boards. The evening's guest speaker was Fradel Barber, Executive Director of World Financial Group, who educated attendees about the necessity of managing finances and making secure investments.
"Everyone spent a great evening together networking, listening to Fradel Barber's inspiring presentation, and enjoying the cocktail hour, which was organized by Janice Rimler, the Chairperson of the fundraising Committee of the Forest Hills Local Chapter," said Chapter President Anjali Chugh.
As the Executive Director of World Financial Group (WFG), Fradel had much information to share with members and guests. She candidly told the group about her humble beginnings as one of 12 children in a household with no life insurance to how she used credit cards "like they were going out of style." She spoke about how, ultimately, she found financial security and the ability to help others achieve the same once she joined WFG in 2003. Being in control of her own future was a big draw for her, Fradel explained to the audience in her presentation.
"I'm coachable, but I'm not good at being told what to do," she said. "I am very independent by nature and I wanted freedom of time, freedom to go anywhere, and I wanted freedom to have multiple businesses."
Fradel took her passion for helping families such as her own and came on board with the company full-time in 2003. In 2007, she moved back to Brooklyn to open her second WFG office to help families in the neighborhood where she grew up.
"Once I made the decision [to go into business], I never really looked back," she said.
Fradel believes that World Financial Group is an extraordinary opportunity for people from all walks of life. The company helps people realize their dreams. WFG is a business platform that empowers people to create lucrative and lasting financial services businesses.
"Through WFG, our associates provide clients across the United States and Canada with the finest financial strategies and products available today. Right now having a business can be more secure than having a job because you get to decide if you stay there or not," Fradel said. "Our opportunity allows people to start part-time, so they can still have their jobs and have a back-up career and eventually make this their full-time career."
Fradel really captured everyone's attention by focusing on the 'independence' aspect of business.
"Today, I can't imagine what it would be like to go to someone to ask for a day off. At the end of the day, that's what having your own business can afford you, if you build it right," she advised.
"You can have that independence and not have to answer to anyone or be limited by how much money you can earn. You're only limited by yourself." She further said, "To have a positive impact on the people I come in contact with, I lead and inspire them to do great things and in the future that will go on to affect other people for generations to come."
Fradel explained that WFG associates have the ability to offer products and services from a broad array of financial services providers, which allows the associates to find the very best solution for their clients. These solutions can come in many different forms, including insurance protection, retirement strategies, college planning, estate planning, business solutions, financial planning, and more.
World Financial Group offers people an uncommon opportunity to change careers and be in business for themselves but not by themselves. The company offers a variety of support functions through its Executive Headquarters, located in Duluth, Ga., as well as powerful industry relationships, innovative training programs, and hands-on field mentoring, as well as a business model that can put a willing individual on the path to a brighter future.
"Fradel's presentation was so informative and motivational that the members and guests were compelled to present her with an unending list of questions at the end of her presentation," said Anjali.
Those who attended the networking event included: Fradel Barber (Guest Speaker), Janice Rimler (Owner, All Hands in Motion Professional Sign Language Interpreters LLC), Karron Franklin (Private Investigator), Dana Linton (CEO Hogland Variety LLC), Lyson Basile (Project Manager and Business Analyst), Cassandra J. Greene (Continued Medical Education Expert), Karen Gerstman (Voice Actor), Karen L. Booker (Senior Consultant BeBe Group LLC), and Anjali Chugh (Grief Counselor).
The National Association of Professional Women (NAPW) is the largest and most recognized network of female professionals. NAPW provides a forum where women can interact, exchange ideas, educate, network, and empower. NAPW Local Chapters allow members to maximize their experience through meetings, networking opportunities, and professional events.
For additional information regarding the NAPW Forest Hills Local Chapter and/or NAPW, please visit http://www.napw.com.
Follow NAPW on Facebook and Twitter.
###