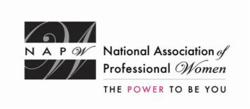 It was decided that we would elect Board Members and Committee Chairs on a calendar year basis, instead of fiscal year basis.
Garden City, NY (PRWEB) September 04, 2012
Board Members of the newly formed Huntsville Local Chapter gathered on August 2nd for a Board meeting where they discussed the election of additional Board Members and Committee Chairs and established a number of guidelines for future Huntsville Local Chapter meetings. The Huntsville Chapter includes nearly 30 members from all over Northern Alabama and is one of the latest of NAPW's nearly 400 local Chapters around the country.
During the meeting, the Board determined when elections for other positions would take place and that the terms would be further discussed with future candidates.
"It was decided that we would elect Board Members and Committee Chairs on a calendar year basis, instead of fiscal year basis," said Huntsville Chapter President Edwinta Merriweather.
"Because we're halfway through this calendar year, all current Board Members and Committee Chairs are being asked to finish the 2012 term and automatically serve in the same capacity for the 2013 term."
Huntsville Local Chapter President Edwinta Merriweather attended the July national teleconference with Cindy Burns, NAPW National Director of Local Chapters. All Chapter Presidents are required to attend the informative, monthly conference calls. During the call, Edwinta learned that the National Social Media Director's email address is olisa@napw.com.
"Olisa is available for any questions we might have especially once our future Secretary gets our Chapter linked to various social media outlets," said Edwinta.
Cindy reminded all Chapter Presidents to send in their bylaws, which Edwinta had already done, well before the deadline.
"Cindy also mentioned that she will be sending our area e-blasts. When I receive them, I will forward them to the members," said Edwinta.
It was agreed at the Board meeting that the Huntsville Chapter would only sponsor one charity a year. The 2012 chosen charity that the Huntsville Chapter will support is Kids to Love, which provides for foster children in 40 counties. The Chapter will work with this charity on their Christmas drive.
"The Board felt it was necessary to select a charity that affects and helps not just the Huntsville community but everywhere we have Chapter members," said Edwinta.
NAPW Huntsville Chapter Vice President Margie Burchfield assisted in updating the Chapter Home Page to include Edwinta's biography and photograph and created the Chapter's first newsletter, which Edwinta will distribute to members prior to the first Chapter meeting. Edwinta discovered that the Chapter is considered a for-profit organization so some of the Chapter's advertising and fundraising ideas will have to be revisited. Also, since it is against National policy to charge Chapter dues, this also needs to be taken into account for future fundraising.
Although NAPW provides a budget of $200 for the Chapter kick-off meeting and a $100 budget for monthly meetings for supplies, etc., it was decided at the August Board meeting that all Board and Chapter meetings would be BYOL so instead of using the budget for food, the Chapter could use the budget for NAPW promotional gifts/door prizes and to give a gift card to the guest speakers.
Finally, it was agreed that Chapter meetings would not be held during June, July, and August of each year. Otherwise, Chapter meetings will be held on the second Saturday of each month. Future meetings are scheduled for September 8th, October 13th, November 10th, and December 6th. The December meeting will be held at a local restaurant but all other meeting will be held at deciBel Research. Board meetings will continue on an as-needed basis, but at minimum, monthly, on a Saturday during lunchtime. The next Board meeting was set for August 25th at deciBel Research and will be a BYOL (bring your own lunch). It was agreed that the schedule is subject to change.
The National Association of Professional Women (NAPW) is the largest and most recognized network of female professionals. NAPW provides a forum where women can interact, exchange ideas, educate, network, and empower. NAPW Local Chapters allow members to maximize their experience through meetings, networking opportunities, and professional events.
For additional information regarding the NAPW Huntsville Local Chapter and/or NAPW, please visit http://www.napw.com.
Follow NAPW on Facebook and Twitter.
###