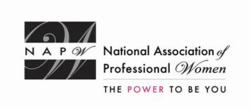 Kathy is one of the few individuals who has the ability to push her mind and body to its limit...
Garden City, NY (PRWEB) September 18, 2012
Members and guests of the Kalamazoo, MI Local Chapter met for the second time on July 25th for a professional networking meeting at the Food Dance restaurant in Kalamazoo.
During the networking meeting, guest speaker Kathy Roche-Wallace, a world record-setting athlete, inspired the audience with her presentation about women's focused fitness and her new book, Let's F.A.C.E. it, You Really Can Accomplish Anything You Set Your Mind To.
NAPW Kalamazoo, MI Local Chapter President Tammy Gleeson introduced the guest speaker, who specializes in extreme endurance sports, to members and guests present at the networking event.
"Kathy is one of the few individuals who has the ability to push her mind and body to its limit. She has raised six children, has four grandchildren, and balances her work and personal life in order to achieve what many of us women could only imagine," she said.
In the health industry for the past 26 years, Kathy is very interested in physical fitness and taking care of oneself. She obtained her teaching degree in Health, Recreation, and Physical Education with a minor in Psychology. She was able to relate her ultra-distance races and her experiences to real world lessons, giving inspiration to all in attendance. Kathy discussed her first book Let's F.A.C.E. it, You Really Can Accomplish Anything You Set Your Mind To, which focuses on her philosophy.
"F.A.C.E. is an acronym for: Focus on where you want to go not where you've been; Allow yourself the opportunity to fail in order to succeed; have the Courage to try; and Embrace the now," Kathy told members and guests.
Everyone agreed that Kathy's talk was very inspirational. Her contact information is kroche1(at)cablespeed(dot)com or gokathygo.com .
During the networking meeting, Tammy invited members and guests of the Kalamazoo, MI Chapter to introduce themselves and discuss their interests, occupations, and goals. Member Bridget Lorenz Lemberg, Owner of Forensic Fluids Lab in Kalamazoo/Portage, discussed the details of her work, including using saliva testing for drugs, cholesterol, testosterone levels, etc. Bridget, who does testing for groups locally and across the country, pointed out that saliva testing is quicker and more accurate than serum blood testing. Guests attending the meeting included Pamela Price, Certified Nurse Anesthetist at Oaklawn Hospital and Caron Warnsby, a General Surgeon at Oaklawn Hospital.
"Both women were very interested in attending meetings again and discussing joining the NAPW Kalamazoo, MI Local Chapter," said Tammy.
Other items discussed at the networking meeting included guest speakers for upcoming meetings. Some topics members and guests would like to see addressed by future speakers were women's health, balancing life and business, business expansion, marketing, leadership skills and empowerment, and promotion of business/personal success. Tammy asked members to contact her if they had any speaker in mind for upcoming meetings.
"If any member herself is willing to be a speaker, that is also encouraged and welcomed," said Tammy.
Bridget shared with the group information about a MasterMinds group that focuses on team building and has a facilitator. Also discussed for upcoming speakers were 'Peer'spectives groups. These are nationwide and focus on leadership coaching, inspirational speaking, motivation, and leadership training. Two groups in the local area included Ann Arbor (WBENC) and in Michigan (MICEED). Tammy said she would look into these groups as possible future guest speakers.
The President also encouraged members and guests to bring in information regarding additional/other fundraisers they would like the Kalamazoo, MI Chapter to support. Information was given to members that the YMCA does accept donations of cell phones and laptop computers. The group was reassured that the YMCA's IT department will wipe out all information stored on the hard drives and phones.
The meeting was adjourned at 9:00pm. Information is posted on the Kalamazoo, MI Local Chapter Page of the NAPW. The meeting minutes will be made available there, as well. The upcoming meeting dates and times were discussed. Wednesday or Thursday evenings were felt to be the best for most members. This will again be discussed in August.
The National Association of Professional Women (NAPW) is the largest and most recognized network of female professionals. NAPW provides a forum where women can interact, exchange ideas, educate, network, and empower. NAPW Local Chapters allow members to maximize their experience through meetings, networking opportunities, and professional events.
For additional information regarding the NAPW Kalamazoo, MI Local Chapter and/or NAPW, please visit http://www.napw.com.
Follow NAPW on Facebook and Twitter.
###