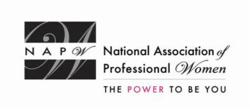 It was a perfect venue to start with our meeting, get to know each other, focus on lunch and networking, and learning about in-home services from guest speaker Jamie Sanderson.
Garden City, NY (PRWEB) September 18, 2012
Members and guests of the NAPW Orange County, CA Local Chapter gathered on August 26th for a professional networking meeting at Cosi, a popular restaurant located at 901 South Coast Drive in Costa Mesa. This month's guest speaker was Jamie Sanderson, CSA Community Relations Coordinator and Independent Franchise Owner of BrightStar Life Care & Kid Care, a company that helps families care for loved ones by providing compassionate, expert in-home care.
Orange County Local Chapter President Petra Petry, Ph.D., kicked off the noon meeting by welcoming everyone to the restaurant. Cosi was a replacement venue when there was a last-minute cancellation of the original meeting place.
"It was a perfect venue to start with our meeting, get to know each other, focus on lunch and networking, and learning about in-home services from guest speaker Jamie Sanderson," said Petra.
Members and guests were also treated to an informative presentation by guest speaker Jamie Sanderson. She talked about how in-home services accompanied by subtle smiles and long talks in the difficult times can make a big difference for the healing process of patients and the quality of their life.
"Showing kindness and compassion, while providing the right level of care; it's a good feeling," said Jamie.
Jamie explained that the flexible care programs BrightStar offers vary from hourly to live-in, as well as night and respite accommodation. She also talked about the private duty homecare buyer's guide; this details how to do your homework before interviewing with an agency. Jamie gave members and guests some very helpful hints to screen the private caregivers and invited them to inquire about her seniors or infant post-surgery services. For more information, contact the leader of in-home care directly at 949-837-7000 or 714-864-4329; jamie(dot)sanderson(at)brightstarcare(dot)com and/or brightstarcare.com
Members at the August Orange County, CA Chapter meeting were:
Petra Petry, Ph.D. - Long-Term Care Insurance Specialist. Long-term care insurance is not just for the elderly. Anyone, at any age, may need assistance with day-to-day living as a result of an injury, accident, or illness. Health Insurance or Medicare pays for medical expenses; only long-term care insurance pays for extended care in or out of your home. Are you protected?
Petra is available for individual or group seminars, consultations, and webinars. Contact: 949-351-0347 or visit petrapetry.ltcfp.com.
Linda Kaplan from KAPLAN ENTERPRISES designs by S.I.L.K. - Certified Coach, Educator, and Mentor. Linda is available with lecture series coaching on how to understand your co-worker, family, friends, students, etc. Utilize their talents, qualities, and expertise in all aspects of life. Contact: 714-396-4428 or designsbysilk1(at)sbcglobal(dot)net.
Donna Magner - CEO of a1Tonertech.com for quality printers, copiers, fax with multifunction's, warranty renewals, service, repairs, and supplies. Contact: 714-998-4211 or toll free 866-507-8324; donna(at)a1tonertech(dot)com; a1tonertech.com.
Ericka Schindelbeck - Executive Consultant from Quality Biz Solutions. Hands-on sales training and consulting. Contact for a free consultation: 951-552-0274 or 714-927-7214; Ericka(at)qualitybizsolutions(dot)com; qualitybizsolutions.com.
Jennifer Leonti, Immigration Attorney, Fragomen, Del Rey, Bernsen & Loewy, LLP, 18401 Von Karman Avenue, Suite 255, Irvine, CA 92612. Contact: jleonti(at)fragomen(dot)com; phone: (949) 261-0209; direct dial: (949) 862-9477; fax: (949) 261-2821; fragomen.com. Follow us on Twitter: http://twitter.com/fragomenglobal.
Guest in attendance was Joy Gioia Campatelli Paulson Nerium international for your immediate results. Contact: (714) 962-4693; joy(dot)campatellipaulson(at)facebook(dot)com.
The National Association of Professional Women (NAPW) is the largest and most recognized network of female professionals. NAPW provides a forum where women can interact, exchange ideas, educate, network, and empower. NAPW Local Chapters allow members to maximize their experience through meetings, networking opportunities, and professional events.
For additional information regarding the NAPW Orange County, CA Local Chapter and/or NAPW, please visit http://www.napw.com.
Follow NAPW on Facebook and Twitter.
###