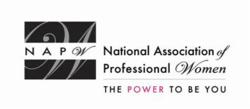 Like most of us, we expect that the response to why women join would be for the networking, support, and potential to grow our businesses with the assistance of other members
Garden City, NY (PRWEB) June 22, 2012
The NAPW Providence Local Chapter gathered on Monday, June 4th for a professional networking meeting at Buca di Pepo in Seekonk, MA. The Chapter discussed ways to get more women involved and grow participation in the Chapter.
Members in attendance included Ilaine Bednarik, Providence Local Chapter President and Marcia Rabaiotti. Andrea Panell, Wilma Jalbert, and Jennifer Brennan were all new members in attendance as well. Ilaine asked the new members to introduce themselves and to talk about their businesses and professional backgrounds.
Andrea has been a Registered Nurse for 14 years and recently started her own medical records consulting business called Keystone Consulting, LLC. Her business works with attorneys, insurance agencies, and government agencies to review and analyze medical records.
Wilma is an Interior Decorator who is originally from Brazil and moved to the United States in 2001. She and her husband had started their own custom window treatment business eight years ago called W & J Window Fashions N' More. She is a member of the Window Coverings Association of America.
Jennifer Brennan is an Accounting Manager at The Brickle Group, Inc. She is graduated from Bryant College, and has been employed by the Brickle Group since 2004. As the Accounting Manager, she manages a staff of six and oversees the accounting and financial aspects of the organization.
Ilaine and the ladies focused on ways to get more professional women involved in the Chapter. The members discussed the possibility of setting up a speed networking event and other fun activities that the Chapter can hold at their meetings. Several venues were discussed although the location is to be determined. The initial timeline is for September 2012. Another topic of discussion was increasing membership through other groups such Meetup.com.
"Like most of us, we expect that the response to why women join would be for the networking, support, and the potential to grow our businesses with the assistance of other members," said Ilaine.
Ilaine relayed that Providence Local Chapter meetings will be held at a convenient times and places to encourage more participation. She also asked the group to suggest any adjustments or requests to hold meetings at different locations to make them more accessible for people in different areas.
Ilaine wrapped up the meeting by talking about what is to be expected for the upcoming month. The meeting adjourned at 8:00pm. The next meeting is to be held on July 23rd. There is more information regarding upcoming meetings on the Providence Local Chapter page on the NAPW website.
The National Association of Professional Women (NAPW) is the largest and most recognized network of female professionals. NAPW provides a forum where women can interact, exchange ideas, educate, network, and empower. NAPW Local Chapters allow members to maximize their experience through meetings, networking opportunities, and professional events.
For additional information regarding the NAPW Providence Local Chapter and/or NAPW please visit http://www.napw.com.
Follow NAPW on Facebook and Twitter.
###