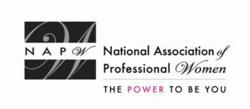 My desire, as well as those of the members present, is to support the gifts, talents, and abilities of the women in the St. Louis, MO Local Chapter as speakers, workshops, and seminar presenters at the local meetings.
Garden City, NY (PRWEB) September 25, 2012
Members and guests of the NAPW St. Louis, MO Local Chapter gathered on September 10th for its first professional networking meeting at the Olive Garden on St. Charles Rock Road. Chapter President Lisa Mare Pettis led discussions on plans for the Chapter's upcoming re-launch in November as well as the goals and objectives of the NAPW St. Louis, MO Local Chapter.
"The first networking meeting of the St. Louis, MO Chapter got off to a great start and a lot was accomplished," said the President. "I am excited about future meetings and exchanges with Chapter members!"
Lisa, who is the Owner of REFORM, a personal training business, kicked of the initial meeting by welcoming all to the networking luncheon. Olive Garden was an excellent venue and offered members and guests a mouth-watering menu of all-you-can-eat soup, salad, and breadsticks, and a variety of entrees.
Lisa welcomed everyone to the meeting. As a special thanks to the members and guests in attendance, she distributed copies of her book All About Me, which is featured and available on the NAPW Authors page as well as on Amazon.com. The President then invited the women to meet and greet each other while they were enjoying lunch. She passed out welcome materials to the attendees, many of whom, like her, were new NAPW members. NAPW pins were awarded to the new and returning members. Next, she initiated a little game, asking each member or guest to introduce themselves to the group, using either the first initial of their first, middle, and last names, or all three, to describe who they were, including their education, personality, job title, or anything else they chose to include.
"It appeared that the women enjoyed the exercise and got to know each other in that short period of time," remarked Lisa, who used the words Love, Intellectual, Submissive ("I had to explain that one a little more!"), and Artist to describe herself.
Members and guests were inspired and moved by each other's stories, particularly by one woman whose stirring account told how she rose from poverty to now owning her own successful business.
"What a success story and an asset to the NAPW St. Louis, MO Local Chapter!" said the President. "And there were so many other stories and experiences shared during the meeting that helped to inspire the women who attended."
Lisa then led the group in a discussion about the goals and objectives for the St. Louis, MO Chapter. She received plenty of input from members and guests, such as ideas for meeting places, times, days, topics (i.e., leadership skills), guest speakers, activities (i.e., one-on-one sessions with members), and charities to support (i.e., women's shelters, women transitioning from incarceration to work, adopt a family).
"My desire, as well as those of the members present, is to support the gifts, talents, and abilities of the women in the St. Louis, MO Local Chapter as speakers, workshops, and seminar presenters at the local meetings," said Lisa. "But we will include speakers from outside of the Chapter, as well.
A discussion about the re-launch of the St. Louis, MO Local Chapter, which will take place, Monday, November 12th at 1:00pm, was next on the agenda.
Lisa told the group that the location of the re-launch will soon be announced. The re-launch will include entertainment from none other than the St. Louis Chapter President, Lisa M. Pettis, who will share an original inspirational song. Up-and-coming inspirational rock artist, Jamisha J.
Pettis, Lisa's daughter, may also perform her original song, "Angel Without Wings."
"I will sing my song, 'I Am Not All You See' at the re-launch which I believe goes along with the NAPW theme of 'The Power To Be You," said Lisa.
Also at the re-launch will be plenty of information about the benefits of joining NAPW, networking opportunities, door prizes, and more. Lisa's book, All About Me, will also be available for purchase during the re-launch and as part of the door prizes.
Lisa mentioned the need for Chapter Board Members, such as Vice President, Secretary, Event Planner/Coordinator, Activities Coordinator, Photographer, Social Media Representative, New Member Coordinator, Mentor Coordinator, and Charity Coordinator. As other members move forward to volunteer for other positions, the President said she will add to the Board, but for now, the following positions are open to volunteers: Vice President, Secretary, and New Member Coordinator.
It was decided by Chapter members that going forward, meetings will be held on the second Monday of each month but the times will alternate between 1:00pm (lunch) and 6:00pm (dinner). Therefore, the meetings for the rest of the year are as follows: Monday, October 8th at 6:00pm (finalize re-launch plans); Monday, November 12th at 1:00pm (Chapter re-launch); and Monday, December 10th at 6:00pm (informal-Christmas Party). All meeting venues will be announced and meeting updates will be available on the NAPW St. Louis, MO Local Chapter page.
Members and guest in attendance at the September networking meeting were:
Judy M. Elias, C.P.A. She is one of three owners of Integrated Financial Solutions, LLC (an accounting firm). Her expertise is in preparing financial statements, tax planning, preparing tax returns (for small businesses and individuals), and assisting clients with all financial functions including Quick Books training and review.
Michelle Martin, CEO of AMM Empowerment, LLC. Her skills and areas of expertise include education and empowerment. She is currently involved with the Society of Human Resource Management/Association of Legal Administrators/Diversity Officer's Network.
Linda Pevnick, LCSW, Cognitive-Behavioral Psychotherapy for Insomnia, was the guest of Judy M. Elias. She specializes in coaching people in relief of stress in order to obtain better sleep.
Linda shared how she gives a talk about what people enjoy about sleep, which was confirmed by Judy, and she is willing to share her talk with the NAPW St. Louis, MO Chapter at an upcoming meeting.
LaDonna Turner, Founder and CEO of Smart Ideas Consulting Firm, LLC (SICF). She offers clients a combination of micro- and macro-services. With 17 years of experience working in human service programs at all levels including direct client services, management, and administration, she is a highly specialized and skilled Human Services Consultant.
Emily Weber, Vice President at Enterprise Bank & Trust. She is a Relationship Manager for Enterprise Bank & Trust. Her company partners with family-owned and privately held businesses, with the goal of guiding them to a lifetime of financial success through both commercial banking and wealth management. They are the only St. Louis-based financial institution that offers a full educational curriculum through their Enterprise University at no cost, to help business owners succeed. She has been with Enterprise Bank & Trust for 11 years.
Kathryn Yansen, a proven record of success in Claims Adjusting & Underwriting Management.
She is a multi-disciplined, results-driven, and highly motivated individual with extensive experience in the service industry, specializing in insurance adjustment, claim management, policy coverage, and underwriting operations management. She is highly respected for her knowledge of insurance compliance regulations and ability to analyze situations, develop alternatives, and recommend mutually beneficial resolutions.
The National Association of Professional Women (NAPW) is the largest and most recognized network of female professionals. NAPW provides a forum where women can interact, exchange ideas, educate, network, and empower. NAPW Local Chapters allow members to maximize their experience through meetings, networking opportunities, and professional events.
For additional information regarding the NAPW St. Louis, MO Local Chapter and/or NAPW, please visit http://www.napw.com.
Follow NAPW on Facebook and Twitter.
###