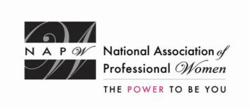 Natalia began coming to the NAPW Suffolk County Local Chapter meetings in May 2012 and she has not missed one meeting..we're lucky to have such a dedicated member in our Chapter...
Garden City, NY (PRWEB) September 13, 2012
Members and guests of the Suffolk County Local Chapter gathered on August 28th for a professional networking meeting at Chapter member Dr. Natalia Elson's dental office located at 150 Islip Avenue, Suite 5 in Islip. Natalia, the meeting's host and guest speaker, presented an informative talk on women's dental health to members and guests. During the networking meeting, the Chapter discussed its support of the American Heart Association's upcoming Annual Heart Walk at Jones Beach on September 23rd.
NAPW Suffolk County Local Chapter members and guests delighted in the spread of appetizers, entrees, wine, drinks, and dessert provided by NAPW and the evening's host. As they enjoyed the bounty of food and drink, the women exchanged business cards, introduced themselves, and networked.
Chapter President Jennifer Makaw greeted everyone and welcomed them to the meeting. The highlight of the evening was Natalia's presentation, Women's Hormones and Dental Health.
"Natalia began coming to the NAPW Suffolk County Local Chapter meetings in May 2012 and she has not missed one meeting," said Jennifer. "We are lucky to have such a dedicated member in our Chapter and look forward to Natalia's attendance at future events and Chapter meetings."
The evening's host gave her informative presentation on a flat screen television in her reception area. Natalia's presentation outlined the different stages of female maturity, pre-pubescent, puberty, maturity, menopausal, and the different gum diseases and teeth conditions that are most prominent during each stage. Natalia advised that male hormones stay steady throughout their aging, but women's fluctuate not only monthly but with each stage of maturity so it is especially important that women not neglect their dental health. Natalia recommends cleanings and check-ups every three months though most dental insurance policies will only cover two per year.
"With regular visits to the dentist you will avoid oral distress, keep your mouth healthy and avoid future disease and decay," advised Natalia.
The Chapter President took a few moments to remind members and guests about the email distribution in the new newsletter and discussed the NAPW website, the Suffolk County Local Chapter Facebook Page, and the Chapter's LinkedIn group. She encouraged everyone to stay in touch via the different sites and extolled their benefits, reminding members to use the newsletter to advertise their events and link to more information.
"These are all excellent ways of getting the information about meetings and events out to our members, and for members to link and share information with one another," said Jennifer.
She advised members to review their NAPW profiles and encouraged them to include a photo of themselves and update their information if needed. Jennifer told members that if anyone was having difficulties navigating the website or with remembering their logins and passwords, help was just a phone call away.
"You can call the 800 number and have customer service at NAPW reset them so they can be changed to a more memorable user name and password," said Jennifer. "You will then be able to take advantage of all that the NAPW website has to offer."
As the Chapter President, Jennifer has registered NAPW Suffolk County in the American Heart Association's Annual Heart Walk at Jones Beach on Sunday September 23rd. This is a 5K run/walk that Jennifer is personally taking part in and hopes to recruit nine other NAPW members and friends with a goal of raising $100/person for a team total of $1,000. Members were directed to sign up for the event by going to longislandheartwalk.org and clicking "REGISTER;" registrants will then be directed to join a team where they should find NAPW Suffolk County. NAPW member Theresa Sell generously made the first donation of $20 at the meeting.
Jennifer began the introductory segment of the meeting by introducing herself to the audience. A Graphic Artist and Principal Designer, Jennifer has her own design studio Prints Charming Graphics, LLC at her home in Northport. Jennifer told members of the benefits of networking with NAPW as she has recently taken on new work from connections she attained through meetings with NAPW. Jennifer designs for media, print material, business cards, brochures, web site design, and development, as well as products design the latest for licensed products featuring Dora the Explorer and Teenage Mutant Ninja Turtles.
Jennifer then opened the floor to each member to introduce themselves and share a little about what they do professionally.
Denise Alba introduced herself as an Adoption Consultant. She helps families looking to adopt and foster children for a better life. She is very passionate about her profession. She has two adopted children and is a former foster child. All NAPW members and guests were thrilled to meet Denise and had many stories to share.
Patricia Elner and her husband own a fastener and spring company in Nassau County.
Cynthia Braun is a Professional Organizer and Owner of Organize Your Life. Cynthia works hands-on with her clients helping to organize homes, offices, garages, etc. Once the organizing is accomplished, Cynthia uses her interior design skills to make these spaces more beautiful. Cynthia is very passionate about her job and helping her clients have the best possible life. Cynthia joined the NAPW Suffolk County Chapter in January 2012 and has not missed a meeting.
Jennifer Ennis attended her second meeting. She works as a Real Estate Asset Manager for First Sterling Financial. Jennifer has an extensive background in TV and discussed her latest project in putting together a video for her parents' wedding anniversary, a Legacy Video of photos and video for the upcoming party. Jennifer discussed the possibility of doing Legacy Videos for the elderly to tell stories of their lives to their families for an everlasting memory for generations to follow. Denise and Jennifer discussed the possibility of Jennifer filming perspective families looking to adopt children and they agreed to discuss this further.
Rosemary Serra, NAPW Nassau County Chapter President and Owner and President of Everlasting Beauty Skin Care and EB Skin Care for Men, is a licensed Aesthetician and has a home spa. She founded her skin care line after not being able to find a product she felt was up to her standards. She now offers her highly effective Everlasting Beauty Skin Care Products to spas and personal clients with no minimum order and at affordable prices. Rosemary discussed her journey of running for the Leukemia & Lymphoma Society's Woman of the Year award this past spring. Rosemary spoke of the difficulty of raising money in these economic times and how she has become a Board Member for the Leukemia & Lymphoma Society. She asked if anyone would like to run for the honor and raise money next year and if so, she would do everything she could to help that person.
Ada Wasserman is the Owner of APW Insurance. Ada specializes in long term care, life insurance, disability, health, and annuities. Ada is a long-time member of NAPW. She spoke to members at the Suffolk County Local Chapter meeting in December 2011 and members learned so much from her.
Diane McIlree was in attendance. Diane is an Author, Consultant, and Coach specializing in International Executive Coaching and Services. Diane has attended many meetings with the Suffolk County Chapter and wanted to let the members know of her daughter Maria's new endeavor making 'Diaper Cakes'. Maria is a Baker by profession and now takes orders for her unique cakes.
Ewa Canning is Eastern Suffolk County Local Chapter President and was present to see what draws members to the meetings and how they are run. Ewa is an Entrepreneur in the field of health and wellness expert with Melaleuca. Jennifer and Ewa plan to set up at least one event in the future to get the Suffolk County and Eastern Suffolk County Chapters together and increase awareness of the new Eastern Suffolk Local Chapter.
This was Theresa Sell's first meeting. Theresa is a Biofeedback Practitioner and Reiki Master who does spiritual health coaching. Theresa went into the field after being diagnosed with an illness and being told she had to live her life unhappily while taking medication that wasn't helping her symptoms. She found her calling through alternative medicine and happily shares her knowledge with other helping them with their ailments. Theresa brought along information about an upcoming event: Gaia's Essence Woman's Wellness Conference. She spoke of the Founder
Farrah La Ronde-Hutchinson and her dream of putting together this event where Theresa will be one of 50 vendors. It will be held Saturday, September 15th at the Islandia Marriot from 2:00pm to 8:00pm and is sponsored by While Foods Market. Tickets are $40 ($30 or early bird).
Lauren Bernstein, a guest of Natalia Elson's, works for Golden Image Graphics and has outfitted Natalia's office.
Stephanie Ethe of Quality Life Solutions is an expert in long term care and life insurance.
Stephanie is passionate about her charity work with Cleaning Angels USA where she is the COO. Stephanie and her husband are passionate about helping children. She was happy to tell the group of her husband's recent entry into a program that will prepare him to be an advocate for children by representing individual children on their behalf before the courts.
Natalia Elson, the evening's host and speaker is Dentist and Owner of Natalia Elson, DDS PC, which specializes in dentistry.
Next month's meeting is set for September 25th at a soon-to-be-announced location. The guest speaker will be member Jennifer Ryan, President of Create New Order. Jennifer is a Professional Organizer and Motivational Coach.
The National Association of Professional Women (NAPW) is the largest and most recognized network of female professionals. NAPW provides a forum where women can interact, exchange ideas, educate, network, and empower. NAPW Local Chapters allow members to maximize their experience through meetings, networking opportunities, and professional events.
For additional information regarding the NAPW Suffolk County Local Chapter and/or NAPW, please visit http://www.napw.com.
Follow NAPW on Facebook and Twitter.
###