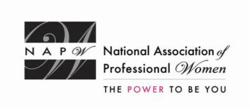 Lillian stated that one must also remember that we are each individuals with our own level of intelligence, education, culture, and childhood environment.
Garden City, NY (PRWEB) November 20, 2012
The NAPW Tucson, AZ Local Chapter held a professional networking meeting on October 24th at Chad's Steakhouse. Professional Trainer/Training Consultant Lillian Sherman was the guest speaker and her presentation on the DiSC® Personal Profile System®, a training and coaching tool from Inscape Publishing, provided members and guests with powerful tips on effective team building in the workplace.
NAPW Tucson Local Chapter President Barbara Nersesian brought the networking meeting to order by welcoming the attendees. In the audience for the first time was guest and potential Chapter member Ronetta Henry, an Administrative Assistant at the Nutritional Sciences Department at the University of Arizona.
"I would like to welcome everyone to the Tucson Chapter meeting, especially our guest Ronetta Henry, who I hope will soon be a joining us as a permanent member of this Chapter," said Barbara.
The Chapter President went on to announce that member Rachelle Marvin will no longer be able to be the Chapter Secretary due to family issues. Member Lillian Sherman graciously stepped in to take over Rachelle's duties for the remainder of the year.
Lillian was also the meeting's guest speaker. Her presentation topic was on the use of the DiSC® Personal Profile System.
"What I am going to discuss should assist you by opening communication and building a trusting relationship with members of a team and/or work environment," Lillian told the women.
She explained how the DiSC® (Dominance, influence, Steadiness, and Conscientiousness) System provides behavioral testing using those four dimensions of normal behavior. It helps individuals assess to what degree they use each dimension of behavior in a situation.
"Lillian stated that one must also remember that we are each individuals with our own level of intelligence, education, culture, and childhood environment," said Barbara. "It was a very effective presentation and we thank her for sharing her expertise with us."
After the presentation, Ronetta shared her dream of moving to the Dallas area and asked for input from the other, more experienced individuals. All were pleased to give her advice and to offer to be of assistance to her as she makes decisions and plans. A discussion took place about what the Chapter could do to encourage participation from more of its members. Before the meeting ended, the Chapter President reminded everyone about the next Chapter meeting, which will be held on November 28th at Chad's Steakhouse.
"All left with hugs and hopes of seeing each other on the 28th of November at Chad's," said Barbara.
Those present at the October Tucson Local Chapter meeting were Barbara Nersesian, Chapter President; Barbara Barth, Chapter Vice President; Trudy Morrow; and Lillian Sherman. The guest and possible new member present was Ronetta Henry.
The National Association of Professional Women (NAPW) is the largest and most recognized network of female professionals. NAPW provides a forum where women can interact, exchange ideas, educate, network, and empower. NAPW Local Chapters allow members to maximize their experience through meetings, networking opportunities, and professional events.
For additional information regarding the NAPW Tucson Local Chapter and/or NAPW, please visit http://www.napw.com.
Follow NAPW on Facebook and Twitter.
###