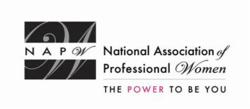 This will be an on-going topic of discussion until we have a few charitable events planned throughout the year,
Garden City, NY (PRWEB) March 28, 2013
Members and guests of the NAPW Appleton, WI Local Chapter gathered on March 21st for a professional networking meeting at Good Company, a local landmark restaurant located on Richmond Street in Appleton.
The group of professional women enjoyed an evening of dining and networking. Attendees also discussed the Chapter's support of a number of charitable groups.
NAPW Appleton Local Chapter President Jody Haversack kicked off the meeting by welcoming everyone and briefly speaking about the Appleton Chapter meeting agenda.
While enjoying dinner at Good Company, a restaurant that offers family casual dining in a relaxed atmosphere, members and guests were invited to introduce themselves and hand out their business cards as a networking exercise.
Jody then led the group of professional women in a lively discussion about various charitable organizations that would benefit from the Chapter's support and involvement.
"This will be an on-going topic of discussion until we have a few charitable events planned throughout the year," said the Chapter President.
Jody Haversack then awarded NAPW Notepads to attendees as a welcome gift. She invited members to join the Chapter to communicate with one another and reminded them that all Appleton Chapter meetings are posted on the Chapter Page.
Upcoming meetings are as follows: April 18th, May 16th, and June 20th. All monthly meetings begin at 6:30pm.
Attendees present at the meeting: Cherie Lindberg, Director and Founder of Get Connected Counseling, LLC. Cherie has been in the counseling field for more than 15 years. Cherie's team uses advance methods of counseling, targeted to one's personal needs, to help one heal from within naturally and allow one to live the positive productive life he or she deserves.
Bobbi del Plaine, Certified Message Therapist in Cranial Sacral Therapy and Reconnective Healing at Get Connected Counseling, LLC. Bobbi uses gentle, noninvasive energetic and body therapies to help clients release their store memory they hold in their body. Bobbi supports the client as they go through their healing journey.
E. Taylor Engelke, Dietetic Technician at Winnebago Mental Health Institute. Taylor specializes in community healthcare and the institute's motto is "Health care today. Hope for tomorrow." Taylor is also a Certified Sports Nutritionist and Personal Trainer. Taylor has relocated back to the area after her and her husband both served in the military.
Jody Haversack, Certified Skin Care Consultant with L'BRI PURE n' NATURAL. Jody specializes in skin and body care products that are aloe-based and all natural. The products are free from alcohols, harsh detergents, waxes, petrolatum, artificial dyes, or synthetic fragrances. The products help with all types of skin concerns such as psoriasis, eczema, rosacea, and acne.
Jody will meet with clients in a one-on-one or group setting.
Ruby Kleinschmidt, guest of Jody Haversack. Reverend Ruby Ministries provides spiritual counseling and Ruby is a Wedding Officiate. Ruby also works on domestic violence issues using psychic/medium.
The National Association of Professional Women (NAPW) is the largest and most recognized network of female professionals. NAPW provides a forum where women can interact, exchange ideas, educate, network, and empower. NAPW Local Chapters allow members to maximize their experience through meetings, networking opportunities, and professional events.
For additional information regarding the NAPW Appleton, WI Local Chapter and/or NAPW, please visit http://www.napw.com.
Follow NAPW on Facebook and Twitter.
###