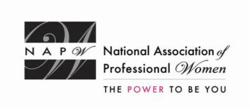 Our Wine & Cheese Networking Mixer brought together an eclectic group of professional women in what we all believe will be a thriving women's networking group here in the Lehigh Valley
Garden City, NY (PRWEB) April 16, 2013
Members and guests of the NAPW Bethlehem, PA Local Chapter gathered on March 7th for a professional networking meeting at DeSales University's Easton campus.
The Chapter hosted a Wine & Cheese Networking Mixer where the group of professional women supported and connected with each other and made plans for the Chapter.
Guest Speaker Linda Bell of the University spoke to members and guests about the various educational programs available to the working professional.
"Our Wine & Cheese Networking Mixer brought together an eclectic group of professional women in what we all believe will be a thriving women's networking group here in the Lehigh Valley," said Bethlehem Chapter President Cordie Lacey.
"Excitement, curiosity, and anticipation ignited the event as women representing the small and large business sectors, entrepreneurs and franchisees, political, entertainment, education, travel, health, and other industries gathered together."
The Chapter President welcomed members and guests to the meeting.
In the room were sponsor-donated giveaways and brochures, registration materials, soft music, comfortable seating and, of course, plenty of wine and cheese. It set the mood perfectly for a relaxed after-work social.
"The evening began with members and guests getting acquainted with one another, sharing commonalities, and engaging in free, open conversation," said the Chapter President.
Thirty minutes into the evening, sponsor representative, Linda Bell of DeSales University addressed the group of women regarding their Access Program, and other higher level education programs geared specifically to the working professional.
Next, Chapter President Cordie Lacey, Principal of LaceFront Entertainment, LLC, followed with a presentation outlining a high-level 2013 strategy for the Bethlehem Local Chapter's ongoing sustenance and continued growth, especially for the benefit and support of each individual member and their businesses.
"The floor was then opened for individual attendee introductions, events announcements, and the sharing of ideas that could benefit the Chapter and their respective communities," said the President.
Some of the ideas suggested by the group of professional women include: hold a mother/daughter event to attract high school and college students not yet in the work force; consider having networking meetings at members' businesses to promote/feature business services; and contact local food businesses to request donations for meetings in exchange for publicity and speaking opportunities for their business at Bethlehem events and promotions.
Prior to concluding the networking event, a business card drawing was conducted that resulted in three lucky winners: Dawn Davis, President of Servpro of Easton, Bethlehem & Whitehall; Kate Briggs, Land Agent II, NiSource Gas Transmission & Storage; and Rachael Robles, Financial Services Representative, TD Bank.
Each of the above-named winners will get featured coverage and exposure in NAPW Bethlehem's social media outlets and throughout its online community.
The Chapter President announced the Chapter's upcoming networking event to members and guests: a "Speed Networking Event" on Thursday, April 11th from 6:00 to 7:30pm at East Stroudsburg University, (New Lehigh Valley Center), 60 West Broad Street in Bethlehem.
"We hope to see everyone there!" she said.
Members and nonmembers are welcome but must RSVP by April 4th. Updates on all future monthly events can be found on the Chapter page.
Nonmembers are invited to attend each monthly meeting, for a maximum of 2 monthly meetings attended. See the website for information on joining the organization.
Jacqueline Nonnemacher of Ameriprise Franchisee announced the following event:
"Learn How to Be Fierce: Financially & Physically," Lee Gribbens on Main, 194 Main Street, Emmaus, PA 18049. Interested attendees must RSVP to Jackie by March 22nd at 610-530-1445, Ext. 11.
The following members and guests were in attendance for the Chapter's March 7th Wine & Cheese Networking Mixer: Cordie Lacey, Cathy Briggs, Cheryl Camlin, Cookie Brown, Dawn Davis, Debra Squires, Diane Gagliardo, Helen Drahos, Jackie Nonnemacher, Jennifer Sletvold, Linda Bell, Karen Amato, Michele Dolgos, Patty Felix, Rachel Robles, Rose Beltran, Sandra Del Cueto, and Susan Beattie.
Like the Bethlehem Local Chapter Page.
The National Association of Professional Women (NAPW) is the largest and most recognized network of female professionals. NAPW provides a forum where women can interact, exchange ideas, educate, network, and empower. NAPW Local Chapters allow members to maximize their experience through meetings, networking opportunities, and professional events.
For additional information regarding the NAPW Bethlehem, PA Local Chapter and/or NAPW, please visit http://www.napw.com.