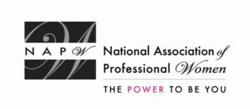 The Chapter is thinking of donating money and services to a local fire station and doing workshops for girls in the Philadelphia and Delaware County School Districts
Garden City, NY (PRWEB) March 20, 2013
Members and guests of the NAPW Delaware County, PA Local Chapter gathered on February 21st for a professional networking meeting at the Glenolden Library.
In an effort to give back to the community, the group of professional women discussed getting involved in local charities. Future Chapter workshops and events were also the focus of the monthly meeting.
Delaware County Local Chapter President DeAnne Lonnquist welcomed all attendees to the meeting. She then led a discussion about ways the Chapter could give back to the community. Naketa Thigpen, Philadelphia Chapter President and Charity Chairman for Delaware County, agreed to look into some options.
"The Chapter is thinking of donating money and services to a local fire station and doing workshops for girls in the Philadelphia and Delaware County School Districts," said the Chapter President.
The group of professional women also talked about the meeting topics and discussions they would like to have over the next few meetings.
Susan Zambon, Events Coordinator for the Delaware County Local Chapter, will be doing a "Business Networking" workshop at the Chapter's March 21st meeting. Susan was the Area Director for BNI – Business Network International.
"The Chapter looks forward to all of Susan's wonderful knowledge and experiences in gaining, building, and promoting business connections and networking," said DeAnne.
Other upcoming Chapter events include Naketa Thigpen's workshop in April on the topics of "Leadership and Balance" and the Chapter President's couponing workshop in the spring. The Events Coordinator spoke with the Glenolden Library to find out some specifics for this workshop.
Attendees discussed the Delaware County Chapter's "Professional Nuggets" project.
The Chapter President reminded the group that professional nuggets can be anything that has helped a person get to where s/he is now. A discussion of the presence of the project was held including online and offline versions. One member brought in some nuggets related to business.
She suggested the book, Get the Job You Want Even When No One is Hiring, by Fred Myers, and described it as an inspiration for a new member. Professional nuggets should be sent to DeAnne.
Increasing membership to the Delaware County Chapter and its meetings was explored. Possibilities that were suggested included changing the day of the week that the meeting is held and sending out a few brief surveys to people in the Delaware County area and Chapter.
The Chapter President thanked member Pamela Scott who created the surveys and encouraged everyone to check their NAPW email frequently.
This month's attendees were: DeAnne Lonnquist, Chapter President and SMG Coordinator for the Philadelphia Chapter, is a Recovery Counselor at CATCH Inc. She is an Art Therapist and Artist.
Naketa R. Thigpen, Philadelphia Chapter President, is President and Co-Owner of Thigpen's Professionals, LLC, which provides personal and professional development services through employee- and executive-focused in-service training, interactive workshops for trainers, empowerment seminars, and coaching services for entrepreneurs.
Susan Zambon, Events Coordinator, is an advertising specialties Account Executive with Proforma Spectrum Graphics. She can help you promote your business, event or cause with high-quality promotional items.
Faye Pellicciaro is a Project Coordinator.
Minutes were recorded by DeAnne Lonnquist, Delaware County Chapter President.
The National Association of Professional Women (NAPW) is the largest and most recognized network of female professionals. NAPW provides a forum where women can interact, exchange ideas, educate, network, and empower. NAPW Local Chapters allow members to maximize their experience through meetings, networking opportunities, and professional events.
For additional information regarding the NAPW Delaware County, PA Local Chapter and/or NAPW, please visit http://www.napw.com.
Follow NAPW on Facebook and Twitter.
###