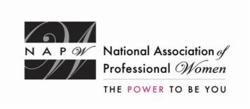 As President of a thriving Speaker's Bureau, Erica Prince trains people to become effective speakers and encourages them to use this new-found strategy to build strong businesses,
Garden City, NY (PRWEB) March 28, 2013
Members and guests of the NAPW Forest Hills, NY Local Chapter gathered on March 18th for a professional networking meeting at Kew Gardens Community Center.
The Chapter hosted Erica Prince, President of The Professional Speaker's Bureau, who helped the group of professional women overcome their fear of speaking in public.
"As President of a thriving Speaker's Bureau, Erica Prince trains people to become effective speakers and encourages them to use this new-found strategy to build strong businesses," said NAPW Forest Hills Local Chapter President Anjali Chugh.
"She engaged the attendees in a spirited discussion with her presentation, "Getting Rid of the Fear of Public Speaking."
After welcoming members and guests to the Chapter's networking event, the Chapter President introduced the guest speaker and invited her to share her presentation with the group.
Ms. Prince shared her journey with the audience. She spoke about her dream of being a speech therapist and told members and guests how she "froze up" before a speech class.
Eventually, she said, she became a Page at the National Broadcasting Center. This job presented her with many opportunities to speak in public. She enjoyed it so much that it became her career.
"There are no perfect speakers," Ms. Prince said. "A successful speaker, among all other things, is well-versed with his/her material."
The guest speaker shared with the group one of her success stories concerning a Lawyer who wanted to build his practice but was afraid to speak in public. He worked hard to conquer his fear of public speaking and later became the owner of a successful small business.
"An enthusiastic conversation ensued when Erica asked everyone about their experience with public speaking," said the Chapter President. "Most members expressed fear, but, she offered suggestions on how everyone could overcome that feeling of fear."
Some tips suggested by Ms. Prince included:

Knowing the material / subject.
Practicing at home with friends or family.
Focusing on one person or an empty chair from time to time. However, one must be careful not to become stuck doing this and forget others are in the room.
Joining an interactive group such as Toastmasters.
Getting feedback from people with experience.
Working with a Coach.
In addition, Ms. Prince emphasized the importance of public speaking and the impact it could have on one's career. Wrapping up, she offered advice to those who might consider this genre as a strategy to increase visibility and grow their business:
Choose creative titles for speeches. They sell and open doors.
Build a database of all those who attend the events
Publish a newsletter and mail to those in the database.
"This was her strategy that caught the attention of Verizon and eventually, she developed a training system that the company offered to their successful business customers for two years," said President Anjali.
After Ms. Prince's informative presentation, the Chapter President gave an update on the Forest Hill Local Chapter's upcoming fundraising event on April 18th. She reminded the group of professional women that proceeds from the ticket sales would be donated to Habitat for Humanity.
"Let's all spend the next few weeks inviting friends and colleagues to ensure the event's success," said Ms. Chugh. "A special thank you to member Camelia Pruteanu for selling 18 tickets to date!"
The Chapter President told members and guests that donations will be accepted even from those who do not intend participating in the event. All are welcome to donate one or more of their products to be used for raffle prizes.
Media Relations Chair Dana Linton will use her resources for ensuring media coverage at the event. Invitations will be sent to other local NAPW Chapters in New York.
Other announcements included:
Member Camelia Pruteanu took over as Co-Chair Event planning committee.
Jaye Corvino was chosen as the Showcase member for the month. During the Chapter meeting, she had the opportunity to give a five-minute talk about her corporate career at Toyota, and share her recent qualification as a Life & Professional Development Coach.
Attendees at the March networking event included: Karen Booker, Jaye Corvino, Karen Gerstman, Donatella Horvath, Chermerdene Jordan, Simona Nicu, Camelia Pruteanu, and Anjali Chugh. (Chapter minutes were prepared by Chermerdene Jordan, Chairperson Communications Committee.)
The National Association of Professional Women (NAPW) is the largest and most recognized network of female professionals. NAPW provides a forum where women can interact, exchange ideas, educate, network, and empower. NAPW Local Chapters allow members to maximize their experience through meetings, networking opportunities, and professional events.
For additional information regarding the NAPW Forest Hills, NY Local Chapter and/or NAPW, please visit http://www.napw.com.
Follow NAPW on Facebook and Twitter.
###