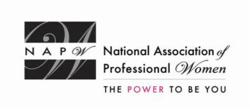 We also hoped the event would help develop a volunteer system, engage prospects, and cultivate donors through strong communication,
Garden City, NY (PRWEB) March 12, 2013
Members and guests of the NAPW Joplin, MO Local Chapter got together twice in December for a professional networking meeting to put plans in place for the A New Year and A New You fundraiser.
On January 10th, the Chapter hosted the event at Lafayette House, a local organization that provides a safe environment for women, children and their families touched by abuse and addiction.
At the December meetings, NAPW Joplin Local Chapter President Shanna Heckmaster welcomed the guest speaker, a representative from Lafayette House, and invited her to speak about the fundraiser.
"Louise from Lafayette House spoke about how the New Year New You fundraising event would be such a help to the residents of the nonprofit facility," said the Chapter President.
"She wanted to confirm that we had everything in order for the fundraiser."
During the meeting, the group of professional women discussed the venue setup and had each booth set in place. The timing of the event was discussed; a definite head count was given. In short, the group wanted to make sure everything goes according to plan.
The group of professional women also discussed some of the goals of this important event, which included giving more opportunities to the mothers at Lafayette and giving them the confidence to go out and make something of themselves.
"We also hoped the event would help develop a volunteer system, engage prospects, and cultivate donors through strong communication," said the Chapter President.
"We want to increase awareness of Lafayette and their needs at the facility and encourage people to donate more!"
The NAPW Joplin Local Chapter accomplished all of their goals for the nonprofit when they hosted the event in January. Members and guests worked hard collecting and donating clothes; there was an inspirational speaker for the women and a booth for helping them with everything from resume and application building to speaking skills to advice on makeup and accessories.
"We can all agree that the event was success and members and guests enjoyed being able to offer their help to the women, children, and families of Lafayette House," said Shanna.
During the December networking meetings, the Chapter President briefly spoke about the Joplin Chapter meeting agenda and upcoming opportunities and events published on napw.com.
"Members and guests exchanged business cards and gave each other referrals, and shared the referrals they had received by networking with each other at previous meetings," said Shanna.
The Chapter President awarded NAPW pins to new members and offered a NAPW notepad as a welcome gift. She invited members to join the Joplin Chapter Page to communicate with one another, see photos, hear local news, and provide comments.
Joplin Chapter meetings are also posted on the Chapter page of napw.com. Monthly meetings are held at 6:00pm on Wednesday evenings once a month along with a follow-up recap lunch meeting on the following Thursday, once a month.
Members attending previous meetings: Shanna Heckmaster, Lori Buresh, Alaina Yockey, Manisha Patell, and Kelley Musick. New members present for the meeting: Ali Odel- Sales Rep for a printing company.
The National Association of Professional Women (NAPW) is the largest and most recognized network of female professionals. NAPW provides a forum where women can interact, exchange ideas, educate, network, and empower. NAPW Local Chapters allow members to maximize their experience through meetings, networking opportunities, and professional events.
For additional information regarding the NAPW Joplin, MO Local Chapter and/or NAPW, please visit http://www.napw.com.
Follow NAPW on Facebook and Twitter.
###