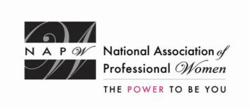 Cat Lambertini, First Vice President-Wealth Management at Merrill Lynch was wonderful, she generously shared her 'Ten Tax Season Guidelines' with us.
Garden City, NY (PRWEB) March 20, 2013
Members and guests of the NAPW Los Angeles, CA Local Chapter gathered on February 14th for a professional networking meeting.
Just in time for the fast-approaching tax season, the group of professional women heard from expert Cat Lambertini, First Vice President-Wealth Management Merrill Lynch who presented ten helpful tips for getting those taxes done.
NAPW Los Angeles Local Chapter President Ruth Garcia-Corrales called the meeting to order by welcoming members and guests and inviting them to give a two-minute introduction about themselves, their businesses, and what they wanted to accomplish at NAPW. She then introduced the guest speaker to the crowd.
"Cat Lambertini, First Vice President-Wealth Management at Merrill Lynch was wonderful, she generously shared her 'Ten Tax Season Guidelines' with us," said the Chapter President.
"Her expert tips were a big help to everyone as we get ready to prepare our taxes!"
The guest speaker discussed how NAPW members and guests could take advantage of the tax codes. After her presentation, Ms. Lambertini opened the meeting up for questions.
Cat started her presentation by telling the group to track down stray forms and to make sure to collect all W -2s and 1099s. These forms would be coming in different types of envelopes.
Another tip is to use reports on banking and credit card websites. Access expenses by using credit card providers' downloadable reports and by customize reports.
She also talked about setting up Electronic Federal Tax Payment System (EFTPS) this month. This allows one to pay taxes without a fee. Take into account the costs for looking for a Job as many purchases and activities associated with a job search can be tax deductible, such as travel fees, books, creating resumes, business cards, and postage.
She also mentioned health insurance deductions and how business owners can deduct the cost of health insurance for themselves and their families.
Other Subscriptions such as to trade magazines, career coaches, classes, license fees, and more can be considered a deductible. Student tuition fees can take a deduction of up to $4,000 from income for student tuition fee expenses. Make sure to understand the deadlines regarding an IRA contribution. Many do not know that a financial gift can be given to someone of up to $13,000 without having to pay extra taxes on the gift. Lastly, don't wait until the last minute to do your taxes.
At the conclusion of the presentation by the guest speaker, the Chapter President spoke about NAPW's National Networking Conference to be held in New York at the Sheraton New York Times Square Hotel on Friday, April 26th.
She indicated airline tickets are available at an inexpensive rate and told the crowd she found a round-trip flight for $280.
During the meeting, there were a number of community announcements, including an 'Anti-Violence Against Women' flash mob event being held that day by the creator of the Vagina Monologues. Rio Bistro was also doing a similar event that evening.
These activities were to highlight and spread awareness about the continued negative treatment of women in society.
The next Los Angeles Local Chapter meeting will be held Wednesday, March 20th at 6:00pm at Factor's Deli.
The following were attendees at the February meeting: Amanda Fasenmeyer, Anita Finlay, Anna Swett, Cat Lambertini, Daphne Germaine, Daphne Vandegri, Elizabeth Czuk, Jamie Jackson, Jodi Geigle, Jovita Jenkins, Kathy Kim, Kim Fuller, Laurien Towers, Liane Haynes, Liliya Frye, Lorri Herman, Marlene Granderson, Marsha Block, Maureen Tepedino, and Sarah Nargiso, and Victoria Blackwood.
Ruth Garcia-Corrales, President of NAPW Los Angeles Chapter is the Advertising & Marketing Manager of Curacao. Curacao caters specifically but not exclusively to the Hispanic market.
Each store is as big as Best Buy, Staples, Fry's Electronics, Ikea, and Costco combined. Ruth is also an Author.
Ruth Klein, Branding & Productivity Coach and Owner of the award-winning boutique firm, The Marketing/Time Source. Ruth is a nationally renowned Business Consultant, Author, Speaker, Trainer, Spokesperson, and Coach for clients ranging from Solo-Entrepreneurs to "Corporate Entrepreneurs" ™ to the Fortune 500.
Currently she is hosting a new class that will help a person establish her branding arch type and how to communicate it. She is also launching Universal Mom, which promotes self-esteem and personal development for children.
The National Association of Professional Women (NAPW) is the largest and most recognized network of female professionals. NAPW provides a forum where women can interact, exchange ideas, educate, network, and empower. NAPW Local Chapters allow members to maximize their experience through meetings, networking opportunities, and professional events.
For additional information regarding the NAPW Los Angeles, CA Local Chapter and/or NAPW, please visit http://www.napw.com.
Follow NAPW on Facebook and Twitter.
###