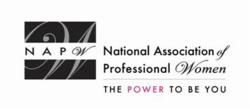 Everyone, please note that these exceptional training opportunities are available through NAPW Continuing Education by registering on napw.com.
Garden City, NY (PRWEB) March 12, 2013
Members and guests of the NAPW Manassas, VA Local Chapter gathered on February 17th at the Dominion Valley Country Club, located at 15200 Arnold Palmer Drive in Haymarket, VA.
The Manassas Chapter welcomed guest speaker, Robert S. Bullock, Esq. from the Elder and Disability Law Center in Washington, DC. The Attorney delivered an insightful presentation on estate planning basics to the group of professional women.
NAPW Manassas Local Chapter President Sandra Scott welcomed members and guests to the meeting.
Prior to the presentation, Sandra provided the group of professional women with the Star12 Webinar schedule through the National Seminars Group/Star 12 containing class availability from now until near the end of March 2013.
The schedule also included the top 15 on-demand webinars with additional available webinars.
"Everyone, please note that these exceptional training opportunities are available through NAPW Continuing Education by registering on napw.com," Sandra reminded attendees.
Sandra also advised the participating members of the NAPW National Networking Conference that will be held in New York City on April 26th.
"Carolyne and I will be attending the conference as well as two other Chapter members and we hope more of you will join us!" said the Chapter President.
Attorney Bullock then took the floor. His presentation focused on service offerings as related to estate planning, which covers power of attorney, advanced medical directives, do not resuscitate orders, wills and trusts, probate matters, trust administration, and will contest.
After the overview, Attorney Bullock spoke to each member individually, providing guidance on how best to proceed regarding their personal life care planning, as well as information regarding parental life care planning, and management. Attorney Bullock's firm can be found at http://www.edlc.com or by calling 202-452-0000.
During the meeting, Carolyne Onkoba was welcomed as a new member. Carolyne provides critical care in the emergency room as a Registered Nurse. She also holds another professional title as President and Registered Nurse at Onkoba Legal Nurse Consulting, LLC, which specializes in legal nurse consulting and is currently involved with the National Alliance of Certified Legal Nurse Consultants.
The Chapter President announced that upcoming Manassas Chapter meeting dates will be decided upon during the March monthly meeting, which will be held on March 10th, from 4:00 to 6:00pm, at Carmello's in Old Town Manassas.
The National Association of Professional Women (NAPW) is the largest and most recognized network of female professionals. NAPW provides a forum where women can interact, exchange ideas, educate, network, and empower. NAPW Local Chapters allow members to maximize their experience through meetings, networking opportunities, and professional events.
For additional information regarding the NAPW Manassas, VA Local Chapter and/or NAPW, please visit http://www.napw.com.
Follow NAPW on Facebook and Twitter.
###