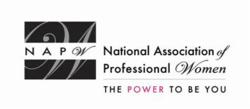 Ada spoke to us about the role of insurance in a well-structured financial plan through all the stages of one's life,
(PRWEB) March 12, 2013
Members and guests of the NAPW Nassau County, NY Local Chapter gathered on February 12th for a professional networking meeting at Cafe Toscano in North Massapequa, to welcome guest speaker and member Ada Wasserman.
An Independent Insurance Advisor and Owner of APW Insurance, Ms. Wasserman spoke to members and guests about the importance of being prepared financially for the future.
Chapter members were dressed in red in honor of NAPW and their support for the American Heart Association.
Prior to welcoming Ms. Wasserman as the highlighted guest speaker, attendees focused on their immediate agenda.
Among the items discussed was the NAPW National Networking Conference on April 26th to be held at the Sheraton Times Square New York Hotel.
Members were advised to check their NAPW email for conference registration.
The group spoke about getting together with the Suffolk County Chapter for a preconference get-acquainted luncheon and will announce a location and date soon.
Next, Guest speaker and Nassau County Local Chapter member Ada Wasserman delivered her presentation. Focusing on Disability Insurance, Long Term Care, and Working Compensation, Ms. Wasserman spoke to the group of professional women about the many benefits of lifelong financial planning.
"Ada spoke to us about the role of insurance in a well-structured financial plan through all the stages of one's life," said the Chapter President.
After the presentation, it was announced that Laura Grau will be running for Woman of the Year 2013 Campaign; a ten-week campaign to raise money for The Leukemia and Lymphoma Society.
Two NAPW Chapter members gracefully volunteered to be on her team. Everyone was very excited about it.
Before closing the meeting, attendees were informed the next meeting will be on March 12th at the same location. The Chapter's guest speaker for that evening will be Ellen M. Meyerson, Vice President and Senior Financial Advisor.
"Everyone remarked on how warm and friendly the NAPW Nassau County Chapter members were," said the Chapter President. "Throughout the meeting everyone was attentive and ready to learn about each other.
Many questions were asked and many suggestions were offered. Quite a number of business connections were made during the networking session."
At the end of the meeting there was a raffle drawing for a red box with contents valued at $140.
One guest was the lucky winner. All agreed it was a very productive meeting and news soon spread about the impressive number of connections that were made.
The National Association of Professional Women (NAPW) is the largest and most recognized network of female professionals. NAPW provides a forum where women can interact, exchange ideas, educate, network, and empower. NAPW Local Chapters allow members to maximize their experience through meetings, networking opportunities, and professional events.
For additional information regarding the NAPW Nassau County, NY Chapter and/or NAPW please visit http://www.napw.com.
Follow NAPW on Facebook and Twitter.
###