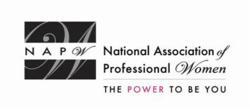 This was one of the year's best turnouts by Chapter members and our panel was terrific!
Garden City, NY (PRWEB) April 25, 2013
Members and guests of the NAPW New York City, NY Local Chapter gathered on April 16th for a professional networking meeting at TheLadders, 137 Varick Street in New York City.
The Chapter hosted a panel of experts who addressed the topic "Stepping out From Behind the Computer and Making Human Contact" and discussed the importance of in-person networking.
With the help of New York City Local Chapter members Valerie Young, Director of Media Sales, MSG Media and Amanda Augustine, Job Search Expert, TheLadders, the group of professional women learned about the significance of connecting face-to-face in order to grow their business and/or extend professional reach.
Janine Schindler, the Chapter Vice President, facilitated the panel and directed them to answer questions that would be useful to the members regarding how to best network.
Panel discussions revolved around the latest trends in networking, social learning and teaching, mastermind groups, and co-working space.
"This was one of the year's best turnouts by Chapter members and our panel was terrific!" said Louise Newsome, New York City Chapter President.
"The value of venues such as our monthly Chapter meetings, where members and guests are able to connect with each other face-to-face, was certainly reinforced by the panel's discussion."
The Chapter President opened the meeting by welcoming all members, including a large representation of new members.
She then introduced her Chapter Officers and Committee Heads who were present at the meeting: Janine Schindler, Chapter Vice President; Laura Ruben, Chapter Secretary; Laura Rivchun, Committee Head, Mentoring Group and Shantha Kalia, Committee Head, Member Welcome.
Erika Ladanyi, head of the Fundraising Committee, briefly stopped by to say hello but unfortunately, had to return to work.
After introductions, Louise passed the baton over to Janine, the meeting's facilitator, who in turn introduced each panelist and started the discussion: "Stepping out From Behind the Computer and Making Human Contact."
"The panelists stressed the importance of networking and why it matters so much. Both Amanda and Valerie have been involved in their industries for quite some time and were extremely knowledgeable about their respective industries and networking," said Louise.
They posed a number of questions for the group to ponder such as "How do you get out there?" or "Where do you go?" Amanda advised that you are ten times more likely to get an interview if you have an employee referral. You may not get the job, but it should at least get you in the door, she told members and guests. They also spoke about social media and how it will definitely help you find "who" you need to speak with. But, they said, it's not the best vehicle to depend on solely for job search or networking.
Networking voice-to-voice or face-to-face, armed with the information gained from a social media search, is still the best way. And all stressed the importance of "listening" to the person you are addressing.
Amanda advised members to start networking while they are happy where they are, when they don't really "need" it so they'll have the connections when they do.
"Both suggested everyone should get out there. Knowledge is power, gaining through research is key, but you have to use it to make it work for you," said Louise. "'Step away from the computer and put yourself out there,' they told us."
The panelists invited two members to role play and were provided a situation. They were then asked how they would act at a networking event.
Members got to see the do's and don'ts of how to best network. All members were next asked to get with two other members who they did not know and just network. At the conclusion of the presentation, the floor was opened to a brief Q&A.
"The panel did an excellent job of showing members and guests the importance of face-to-face networking.
Members were shown how to create action plans to increase their face time with clients, peers, and mentors," said the Chapter President.
After the panelists' presentation, Louise asked Laura Rivchun to briefly tell Chapter members and guests more about the mentoring group and what is in the works for that group. Laura mentioned the upcoming May meeting, which is going to be a combination of both the Chapter's monthly meeting and the next mentoring meeting.
That meeting will be held on Monday, May 13th at the same location, TheLadders, 137 Varick Street.
Louise and Janine chose next month's Member Spotlight and congratulated Susanne Kornfeil.
"We'll see you in the May Newsletter!" said the Chapter President.
In preparation for the next newsletter, Louise asked each member attending the upcoming National Networking Conference to submit a "tweet"-like comment to be included in the May newsletter, due out on May 1st.
All members were asked to send their comments within 24 hours of the Conference to Laura Ruben.
Chapter members who attended the meeting included: Louise Newsome President, Janine Schindler Vice President, Laura Ruben Secretary, Laura Rivchun Mentor Committee Co-Chair, Shantha Kalia Welcome Committee Chair, Erika Ladanyi Fundraising Chair, Jaimie Austin Social media Chair, Amanda Augustine, Valerie Young, Etta Jackson,Gwyn Anderson, Kristine Arutnyunan, Kristen Zavo, Susanne Kornfeil, Mercy Uzo, Lisa Thurlow, Mecca Woods, Kimberly Crail, Dana Khuthaila, Amy Neiman, Loida Garcia-Febo, Jill Humphries, Tachand Dubuisson, June Rachelson-Ospa, Ellen Gottlich, Sandy Mitchell, Romona Mitchell, Nicole Libschik, Martine Saint-Vil, Connie Yen, Stacey Mathis, Juliet Balbour, Kirsi Paalanen, Lisa Levy, Tasha Sims, Carla Latty, Laura Gruber, Rebecca Mayo, Brenda Blake, Nancy Bruning, Revbecca Cannon, Anita Devlin, Cheryl Fleisher, Debra Bedell, Anita Jacobs, Dana Khuthalia, Dee Mendez, Adriana Ondarza, Mary Screen, Deb Woolridge, Joann Stanga, Johanna Wilson, Debbie Silverstein, Tanya Harrison-Houston, Liane Pei, Florence Robinson, Ginger Trunkes, Agnes Ojei, and Kathleen Zadrozny.
The National Association of Professional Women (NAPW) is the largest and most recognized network of female professionals. NAPW provides a forum where women can interact, exchange ideas, educate, network, and empower. NAPW Local Chapters allow members to maximize their experience through meetings, networking opportunities, and professional events.
For additional information regarding the NAPW New York City, NY Local Chapter and/or NAPW, please visit http://www.napw.com.
Follow NAPW on Facebook and Twitter.
###