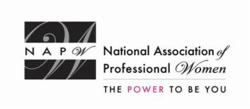 The NAPW Norfolk Chapter is excited to team members and guests with aspiring professionals to allow the students the opportunity to work with a professional and learn first-hand about the business world,
(PRWEB) March 05, 2013
Members and guests of the NAPW Norfolk, VA Local Chapter gathered on February 21st for a monthly networking meeting at Azalea Inn restaurant, located at 23344 East Little Creek Road in Norwalk.
The group of professional women talked about the upcoming fundraiser that will benefit Protecting Children Foundation, whose mission is helping children who are victims of sexual abuse.
Attendees also had the opportunity to network and hear from two members who focused their presentations on financial preparedness.
NAPW Norfolk Local Chapter President Ivory Morgan-Burton welcomed members and guests to the meeting, which began with an open networking session.
She introduced the Chapter's new Secretary, Dani Feret, as well as two other officers, Amy Kretzer, Chapter Treasurer and Cynthia Gossman, Chapter Vice President.
Members and guests had the opportunity to take a few minutes to spotlight themselves and their businesses.
The Chapter Vice President spoke about the Norfolk Local Chapter's upcoming Professional Photo Shoot fundraising event on March 7th and March 8th that will allow those who sign up to have a professional picture taken to use for their business needs.
Each participant will get her hair and makeup done and meet with jewelry and image consultants, all young professionals just starting out in their careers.
"The NAPW Norfolk Chapter is excited to team members and guests with aspiring professionals to allow the students the opportunity to work with a professional and learn first-hand about the business world," said Ms. Gossman.
"The cost per attendee is $75, and a portion of the proceeds will go to Protecting Children Foundation. A great deal of work is going into this to make it a fun event!"
The Chapter President spoke about the upcoming NAPW National Networking Conference on April 26th that will be held in New York. Mrs. Morgan-Burton encouraged all members to attend, and discussed the details of each day's activities, hotel, and travel options.
"Several members are planning to go and we discussed arrangements," said the Chapter President.
Additional plans will be made to carpool based on how many members want to attend and when they want to depart.
The member presentation was given by Sandy Purvis, who highlighted her business as a QuickBooks Trainer and Bookkeeper. Ms. Purvis demonstrated how she can be of value and how she can work with a person's accountant to give them organized records, making tax preparation much easier. Ms. Purvis shared some helpful literature with the crowd.
The Chapter President delivered the motivational speech of the evening titled "Love Yourself Love Another" which emphasized the importance of giving and sharing love with one another and how to have heart to support one another as individuals, business owners, and women; as a patchwork heart is many times giving more than receiving.
"When we are concerned about how to help another's business, one's own business will increase," said the Chapter President.
Mrs. Morgan-Burton had those in attendance write inspirational and encouraging phrases on torn pieces of paper hearts and then trade with each other using the time to network and learn more about one another. Each attendee ended up with many pieces they could put together to form an imperfect, but beautiful heart.
The evening's educational speech was given by member Dani Feret. The emphasis was on loving yourself financially and the importance of setting financial goals. Members and guests were given a chance to set and then share their own financial goals. Ms. Feret then gave instructional steps to get started on working towards those goals.
"At the end of the monthly networking event, members made announcements about events coming up that they are hosting and the meeting was adjourned," said Mrs. Morgan Burton.
"Everyone left with a full stomach and a full heart!"
The National Association of Professional Women (NAPW) is the largest and most recognized network of female professionals. NAPW provides a forum where women can interact, exchange ideas, educate, network, and empower. NAPW Local Chapters allow members to maximize their experience through meetings, networking opportunities, and professional events.
For additional information regarding the NAPW Norfolk Local Chapter and/or NAPW, please visit http://www.napw.com.
Follow NAPW on Facebook and Twitter.
###