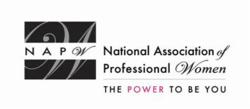 There was a lively "Meet & Greet" segment of the meeting where members introduced themselves to the group and spoke about what they do, have done in the past, and any current news they had to share,
Garden City, NY (PRWEB) March 28, 2013
Members and guests of the NAPW Palm Desert, CA Local Chapter gathered on February 26th for a professional networking meeting at Mimi's Cafe, located at 71861 Highway 111 in Rancho Mirage.
During the evening, the group of professional women enjoyed networking and learning more about each other. Members and guests also discussed Chapter plans.
"There was a lively "Meet & Greet" segment of the meeting where members introduced themselves to the group and spoke about what they do, have done in the past, and any current news they had to share," said Palm Desert Local Chapter President Nedra Davis.
After welcoming members and guest to the networking event, the Chapter President invited everyone to participate in the "Meet & Greet." The following is a summary of what the group of professional women shared with the group:
Chapter President Nedra Davis holds a Ph.D. in Science Education. She currently is an Associate Professor at Brandman University in the School of Education in Palm Desert, California.
Nedra maintains a teaching load of two courses per term for graduate level teacher candidates. She is a developer of new course and online distance education curriculum and acts as an advisor and supervisor for student teachers and interns and as chair of master's degree thesis committees. Nedra has also written and co-written various publications in her field of expertise.
Member Stephanie Eminhizer, Secretary, introduced herself as a Jewelry Designer/ Artist and Owner of her own business in Palm Springs, ANGELS & LIONS. Stephanie showed the members of the group the jewelry she was wearing. She explained how her specialty is wire-wrapped pendants in which she encases a vast array of gemstones, crystals, pearls, and seashells in settings of fine silver, 14K gold, and 14K gold-filled intricate wirework.
These pendants are unique in that they are further embellished with faceted gemstones, pearls, and Swarovski crystals. She is also known for her fusing of glass, using Dichroic glass, which comes in a variety of iridescent colors. Stephanie collaborates on a silver bezel line with her boyfriend.
Her business carries one-of-a-kind handcrafted jewelry consisting of pendants, necklaces, earrings, as well as some bracelets, brooches, and cufflinks. Stephanie has a gift line that includes letter openers, wine bottle stoppers, bookmarks, key chains, and purse hangers. She excitedly talked about her website, where one can buy her jewelry and gifts. She also has her show schedule on the website. Stephanie explained how she normally does juried fine art & craft shows such as the Southwest Festival and the Indian Wells Arts Festival. She recently had a successful show at the Indian Wells Art Walk.
This weekend she is doing the Desert Arts Festival in downtown Palm Springs. She is also participating in the Palm Springs Open Air Market next to the Spa Casino on weekends between her juried art shows.
Member Eroca Kay was a first-time attendee to a Palm Desert Springs Chapter meeting. Eroca, a Real Estate Broker, began by relaying her news about how she got an offer on a property she's been working on for over a year in Sausalito.
She belongs to two boards: the Los Angeles Board and the Desert Board. She's been in the real estate business since 1976. She has done all kinds of things such as selling eye frames to doctors.
She's mostly been in sales her whole life. Eroca worked for a time as a Leasing Agent for a real estate developer in San Diego; it was medical, she looked for tenants for restaurants, and did mostly cold calling.
The Chapter President asked Eroca what she would like to see as far as her membership with the Palm Desert Chapter; what would be helpful, and if she had any ideas for the Chapter. She responded by stating that she would like to help the Palm Desert Chapter grow as far as its membership is concerned. Eroca later relayed to Stephanie Eminhizer that she was mainly interested in coming to the meetings to network with various women. She also would be interested in speaking .
Laura Eaton, a guest of Eroca Kay, introduced herself as an Attorney with her own law firm, Laurence D. Eaton A Law Corporation. Laura got into real estate law because it was the first job she had after law school. She was a law clerk for several years in a firm that represented shopping center developers with their commercial leases and the like.
Laura then got a job working for a savings and loan association and handled their real estate work. She did bankruptcy for a little while, and then returned to commercial leasing. Laura has done many different things, but they have all been property related.
After the "Meet & Greet," the group of professional women discussed a number of issues the women were having with the NAPW website. The Chapter President and others made suggestions about how to better navigate the website.
To encourage more members to attend future Chapter meetings, Chapter President Nedra and the others will begin sending emails and making telephone calls to remind the women of upcoming events, as well as ask for feedback from members who live in the Coachella Valley area.
At the conclusion of the February meeting, Eroca Kay and Laura Eaton both agreed to be the guest speakers at the next Chapter meeting on March 26th. The two will share their expertise in real estate.
The National Association of Professional Women (NAPW) is the largest and most recognized network of female professionals. NAPW provides a forum where women can interact, exchange ideas, educate, network, and empower. NAPW Local Chapters allow members to maximize their experience through meetings, networking opportunities, and professional events.
For additional information regarding the NAPW Palm Desert, CA Local Chapter and/or NAPW, please visit http://www.napw.com.
Follow NAPW on Facebook and Twitter.
###