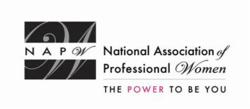 Ms. Scott advised the group of professional women to always be networking,
Garden City, New York (PRWEB) March 05, 2013
Members and guests of the NAPW Raleigh-Durham, NC Local Chapter gathered on February 23rd for a professional networking meeting.
Marketing Professional and Chapter member Nellie Scott delivered a powerful presentation filled with expert tips for managing one's career, including how to devise an effective marketing plan.
NAPW Raleigh-Durham Local Chapter President Louisa Ukochovwera extended a warm greeting to the group of professional women.
Telling attendees they were a special group, she reiterated the mission of NAPW, providing focus and direction for the meeting.
To kick off the meeting, the President introduced Dr. Ethel Hasty, Executive Secretary of the Raleigh-Durham Local Chapter. Dr. Hasty had prepared a unique icebreaker for member and guests.
"She told the women that the purpose of the icebreaker would be to learn a little bit more about each other and to promote interaction, participation, sharing, and team building," said the Chapter President.
The exercise required members and guests to write down three things about themselves that related to Valentine's Day, i.e., love, marriage, etc. Two of the statements they wrote had to be accurate and one needed to be inaccurate. Participants had to guess what the inaccurate statements were and received a valentine for each correct answer.
Dr. Hasty announced that the person who accumulated the most valentines during the activity would win a beautiful Fifth Avenue crystal desk clock.
"Members and guests had an enjoyable time with the icebreaker activity and it set the tone for a pleasant, positive, and relaxed atmosphere," said Louisa.
Chapter member Juanita Corey accumulated the largest number of valentines and was the grand prize winner of the desk clock, which was donated by the Executive Secretary.
"Next, Nellie Scott, the evening's guest speaker, took the floor and delivered a powerful and timely presentation on Career Management," said the Chapter President.
Nellie Scott is Director, Sales Support and Enablement at Lenovo. She began her presentation by discussing pitfalls in a resume; instead of a resume, she recommended creating a marketing plan. The purpose of the plan is to showcase one's strengths, not one's experience.
The marketing expert indicated that with a marketing plan, the emphasis is not what you have been trained for, but rather, the emphasis is on your strengths, those things that you do well.
"Ms. Scott advised the group of professional women to always be networking," said Louisa.
In order to achieve this, the guest speaker told the audience that a personalized marketing plan is essential. Ms. Scott explained that a marketing plan contains a list of competencies that highlight communication skills, customer service, and planning. Ms. Scott strongly recommended the book StrengthsFinder 2.0 by Tom Rath to NAPW members and guests.
More information about the book may be found on the website strengthfinder.org.
Next, Ms. Scott posed two questions to the group of professional women: (1) How are you going to leverage the things you are good at? (2) How can you create your target market? She provided salient information relative to meeting prospective clients.
"Here's the thing, you can initiate a conversation. People will gladly meet you for coffee," she said to members and guests.
Ms. Scott told attendees that she found taking people out to lunch for business purposes gets to be too expensive.
She shared that nobody wants to respond to a person who is looking for a job because they may not be able to accommodate this request. However, what might work better is to meet for coffee and attempt to get feedback about your marketing plan.
The guest speaker asserted that at this point, you may highlight your competencies. Further, she said it is a good idea to share your list of contacts and always ask them who they know on the list and follow through. She said if you accept help you must always reciprocate.
"One pearl of her presentation was to remember to exercise discipline. Be deliberate, be consistent, and remember customer service!" said Chapter President Louisa.
After the presentation, Michelle Rogers shared with the group that the Chapter is in the process of looking at ways to use social media to ensure a more effective way to network with each other as NAPW members.
"As requested by one of the members, before the meeting ended, attendees were given the opportunity to introduce and to re-introduce themselves again to the group for purposes of networking and seeing who could assist whom in their business ventures," said the Chapter President. "This was the perfect way to end a very productive meeting."
Upcoming meeting dates for the NAPW Raleigh-Durham Local Chapter are March 23rd, April 20th, May 18th, and June 22nd.
The following members were in attendance at the Raleigh-Durham Local Chapter meeting in February: Louisa Ukochovwwera is a confident Leader and Educator, with a successful teaching track record, grounded in health management theories and practice. She utilizes extensive experience and training in healthcare and hospital administration.
Michelle Rogers is a Real Estate Entrepreneur whose passion is helping people navigate the process of starting or hiring a property management company. Known for her integrity and drive, she adds confidence and enthusiasm to her clients' experiences.
Dr. Ethel Hasty is Chief Executive Officer at Mobius Paradigms LLC, which specializes in educational consultation. Dr. Hasty's skills and areas of expertise include educational leadership.
Diane Adams is an Independent Travel Consultant at Cruises By Sea, and a member of the Cruise Line International Association since 2004.
Georgia Grant is a Senior Human Resource Professional with over 25 years of human resource generalist experience and 14 at the executive level. Her specialties include organizational effectiveness, resource optimization, process improvement, employee relations, and total rewards and strategic focus.
Susie Sanders is Owner at Something By Net, which specializes in buying and selling accessories made for women. Her skills and areas of expertise include sales, marketing, and customer service.
Roberta MacDonald is President at Computer Magic Services, Inc., which specializes in websites for business, and disks for keepsakes.
MaryAnn Wood, R.N., M.S.N., ACNP, is an Educator and Manager. Her professional title is Nursing Field Manager, Oncology Clinical Coordinators, East Region at Genentech, BioOncology, which specializes in pharmaceuticals/ biotechnology.
Jen Lawrence is a Marketing Professional and Owner at Jael Custom Designs, which specializes in graphic design, consulting, marketing, and blogging.
Donise Benton, Founder, Chief Executive Officer, and Host of Victory Against All Odds, a radio talk show that was established in North Carolina as a nonprofit organization to assist women and men throughout the state to obtain the help that is needed to live in safe, wholesome, and productive communities.
Nellie Scott is Director, Sales Support and Enablement at Lenovo, which specializes in IT products and services. She is currently involved with CompTIA, Advancing Women in Technology and Women in Technology International (WITI).
Amy Oraefo is an Attorney at Jerry R. Caldwell, P.C. Amy practiced business and entertainment law in Atlanta, GA.
Regina Corey is Supervisor Human Resources Service Center at Grifols, In., a multinational pharmaceutical and chemical company that produces blood plasma-based products.
The following guests were present: Alexis Salui, Theresa Salmi, Susan Black, Susan Brambaugh, Lori Lorbes , Sharron Rose, Lisa Sanos, and Oseye Laing.
The National Association of Professional Women (NAPW) is the largest and most recognized network of female professionals. NAPW provides a forum where women can interact, exchange ideas, educate, network, and empower. NAPW Local Chapters allow members to maximize their experience through meetings, networking opportunities, and professional events.
For additional information regarding the NAPW Raleigh-Durham, NC Local Chapter and/or NAPW, please visit http://www.napw.com.