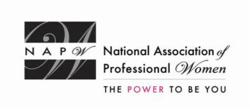 Spring has sprung and so should your social presence for your business on Facebook...When you start, I would highly recommend choosing only one or two platforms
Garden City, NY (PRWEB) March 26, 2013
Members and guests of the NAPW San Francisco, CA Local Chapter gathered on March 6th for a professional networking meeting.
Social media expert and Chapter Vice President Adrienne Olds gave the group of professional women expert tips on how to use social media sites such as Facebook Fan Pages and Twitter to take their businesses to the next level.
"Spring has sprung and so should your social presence for your business on Facebook!" the Chapter Vice President said to members and guests, as she began her presentation.
Ms. Olds, a social media expert who is with Oracle/ORACLE TEAM USA, gave the women a comprehensive guide to using the different social media sites to create a fresh branded look with content that engages.
The Chapter Vice President began her presentation by talking about things to remember before posting content to Facebook Fan Pages such as: What message does your current audience respond the most to? What types of posts create the most likes and comments for your business? What does your potential audience want to hear? (Hint – check out the Insights section of admin panel for more information on audience.) Single images create the highest amount of engagement (more than an album or a video). Engage your audience – ask them questions that are relevant to your line of work and force audience to comment or voice an opinion.
She then reviewed the different social media options for businesses including Facebook, Twitter, Google+, Tumblr, Pinterest, Instagram, LinkedIn, Foursquare, and Wordpress.
"When you start, I would highly recommend choosing only one or two platforms to start with, Facebook & Twitter should be your first go-to platforms. Focus on those first," advised Ms. Olds.
"Seek out the help of someone who is experienced in social media. There are many consultants out there, make sure you choose someone who you feel comfortable asking the tough questions."
When it comes to deciding what to post, the Chapter Vice President told the group of professional women to look at their audience. To engage with them, she said, it's best to look at the "insights" in the admin tab: age, gender, and location.
Also, post single graphics since this gets the greatest feedback, and remember the majority of users do not use a computer, but rather, use a mobile device.
"The best time to post is weekdays between 10:30am and noon and 1:30 and 3:30pm, and between 10:30 and 11:30am on the weekends," she said.
"Post something in the same category at the same time each day or week, so that people know what/when to expect."
One important piece of advice the social media expert gave the women was to not connect their Facebook and Twitter accounts, ever! Pages need different content social tabs "add on's."
To customize, get tabs from Oracle (these are not free); they are available online for free but Ms. Olds did not recommend this.
She reminded the women that tabs allow them to connect all of their social platforms in one place.
The Chapter Vice President discussed the admin dashboard. Notifications show all actions that have taken place on the page. She recommends checking this every day. She also talked about messages and insights. She told the audience they shouldn't pay for analytics because they could get them for free.
Through social media, a business could reach friends of fans and export custom reports to excel.
"Respond and be attentive to your audience," she said. "Remember, your audience can respond both positively and negatively, so be prepared to respond as needed."
When the Chapter Vice President concluded her dynamic presentation, Chapter President Melissa Werner reminded the group of professional women about upcoming NAPW San Francisco Local Chapter "Networking Happy Hours" for 2013.
Future dates are April 24th, July 31st, and October 23rd, from 6:00 to 8:00pm.
All NAPW SF Networking Happy Hours will be 100% open to guests and the public, and will be held at Sens, 4 Embarcadero Center, Promenade Level, San Francisco, CA 94111.
"We encourage all of you to attend, bring business cards, and bring several guests to each networking session," said the Chapter President.
"These will be valuable events to help you get to know each other and grow your own personal network of contacts."
Ms. Werner reminded the group of professional women that the Chapter is always looking for new ideas for meetings.
If anyone has a topic that is relevant for 2013 or would like their organization to host one of the monthly meetings, they are encouraged to email the President at mwerner(at)ccs-architecture(dot)com as soon as possible since dates fill up quickly.
"We are looking forward to a great 2013 with the women of NAPW!" said the Chapter President.
Like the San Francisco Chapter Facebook Page to find out about upcoming meetings, networking happy hours, and other important information. This is also a great place for members to post information about their businesses and how they can help other members. To post, simply visit the page.
Follow the Chapter on Twitter – @NAPWSF.
Members may email the Chapter Vice President at adrienne1227(at)rocketmail(dot)com with the information they want posted.
Make sure it's under 140 characters and you include Twitter username when sending item to post. (Please note: all posts are subject to NAPW social restrictions based upon content regulations.)
The following are future meeting dates/times/topics:

Wednesday, April 3rd – Chapter meeting: Movement and Meditation, 6:00 to 8:00pm; guest speaker Rebecca Fettig, Acupuncture/Ti Gong; location: Valerie Garrett's Grandview Movement Studio.
Wednesday, May 8th – Chapter meeting: Optimizing Public Speaking for Women, 6:00 to 8:00pm; Rhoda Agin will be presenting presentating; location: Sotheby's Board Room.
Wednesday, June 5th – Chapter Meeting: Finance 101, 6:00 to 8:00pm; guest speakers Kristie Cahill and Jenny Woodworth (CPA); location: TBD
Wednesday, July 10th – Chapter Meeting: Women in Food with Deborah Blum, 6:00 to 8:00pm;
ticketed event with food and wine; location: Beretta.
Wednesday, August 7th – Chapter Meeting, 6:00 to 8:00pm; topic and location: TBD
Wednesday, September 11th – Chapter Meeting: Health and Nutrition, De-stress and De-toxify, 6:00 to 8:00pm; health and nutrition focus with presenter Doctor Eliza and an additional speaker; location: TBD
Wednesday, October 2nd – Chapter Meeting, 6:00 to 8:00pm; topic and location: TBD
Wednesday, November 6th – Chapter Meeting: Marketing & Public Relations, 6:00 to 8:00pm;
How to do it Yourself Without Hiring an Outside PR Firm, presentation by NAPW President Melissa Werner; location: TBD
Wednesday, December 4th – Chapter Holiday Party, 6:00 to 8:00pm; stay tuned for more details!
New members who attended the March Chapter meeting were Lori Paulin, Anastasia Schuster, Michelle Kwan, Dr. Elize St. Charles, Loytavian St. Charles, Donna Boyer, and Jenny Woodworth (guest of Kristie Cahill)
The National Association of Professional Women (NAPW) is the largest and most recognized network of female professionals. NAPW provides a forum where women can interact, exchange ideas, educate, network, and empower. NAPW Local Chapters allow members to maximize their experience through meetings, networking opportunities, and professional events.
For additional information regarding the NAPW San Francisco, CA Local Chapter and/or NAPW, please visit http://www.napw.com.
Follow NAPW on Facebook and Twitter.
###