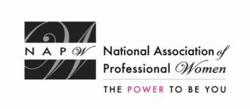 Both presentations on tax and trademarking were very well done and informative,
Garden City, NY (PRWEB) March 28, 2013
Members and guests of the NAPW Santa Clarita, CA Local Chapter gathered on February 12th for a professional networking meeting at George's Bistro in Valencia.
The group of professional women got ready for the tax season and learned about trademark basics with expert advice from two guest speakers Carmen Chivu, CPA and Erica Bristol, Esq., both of whom are members of the Santa Clarita Chapter.
"We have consistently increased our attendance rather significantly every month, with a balance of members and guests or nonmembers," said Nicky "Dare" Eddy, Santa Clarita Chapter President.
The Chapter President, an outdoor enthusiast and mentor of survival strategist, started the meeting by welcoming members and guests, and the guest speakers. She thanked those members who brought with them guests to the event.
As is the tradition, Nicky Dare asked one of the members to read the NAPW Mission Statement and Brand Promise. She then asked three new members: Deanne Fuqua of DRF Incorporated; Marian Gorman of By the People, and Patricia Williams, B.A. ARRT, to step forward.
Each member introduced themselves and was presented with a traditional Santa Clarita welcome and NAPW Member Pins.
"Congratulations on being a part of the NAPW Santa Clarita Local Chapter and welcome aboard, ladies!" she exclaimed to a round of applause from the crowd.
Nicky Dare then invited Carmen Chivu and Erica Bristol to take the floor. Carmen Chivu, C.P.A., of Bessolo Haworth & Vogel, LLP delivered her timely presentation, "Introducing the Tax Return Organizer and Practical Tips." Erica Bristol, Esq., Owner and Mediator of Erica Bristol, Esq., shared some expert legal advice with members and guests in her presentation, "Trademark Basics."
"Both presentations on tax and trademarking were very well done and informative, " said Nicky.
The presentations are available in digital copies if anyone is interested to learn more," said the Chapter President.
After Ms. Chivu and Ms. Bristol spoke, Nicky Dare made a number of announcements and updated the group of professional women on a number of upcoming events, including the 2013 NAPW National Networking Conference, which will be held in New York City on Friday, April 26th.
"Don't forget about the NAPW annual conference," she said to the crowd. "And remember, it's free to all members!"
The Chapter President discussed the NAPW Charity Award Program, which the Santa Clarita Chapter has signed up for this year. Registration has been completed. Nicky Dare announced to the group of professional women that all should get to work and get busy this year.
One upcoming community event the NAPW Santa Clarita Chapter is participating in is the Arthritis Foundation Walk. This year's annual event is scheduled on Sunday, May 19th at Magic Mountain. The President suggested the Chapter begin to form a walk fundraising committee team.
"The design for our NAPW Santa Clarita t-shirts has been approved by the corporate office," Nicky Dare next announced. "A sign-up form was distributed to everyone in the room."
The Santa Clarita Chapter is busy helping other chapter(s): The Chapter President shared an event flyer for "Spark & Hustle" 2013 Tour, April 8th and 9th, in an effort to promote Rancho Cucamonga Chapter President, Ms. Kristine Dutra. Dutra is the Host Committee for Tory Johnson's "Spark & Hustle." Discounted ticket ($10 off) will be given to early-bird registrants.
The President also announced that the President's Recognition Awards will be announced at the April/May meetings. Candidates must be a Chapter member, have good attendance, as well as participate and interact at meetings and events.
The group of professional women discussed other business and social topics, namely:

Follow up on the 72-hour "Survival Bins" members and guests started preparing at home. The month's items: canned foods.
Santa Clarita Chambers of Commerce: membership dues $ 199.
Santa Clarita Annual Business Expo will be held Sunday, October 19th, from noon to 9:00pm at Main Street Old Town in Newhall. A booth will cost $250 for members and $600 for nonmembers. The President discussed with the group if the Chapter should consider becoming a member. If so, then the Chapter needs to select one member to come to monthly breakfast meetings (second Wednesday of each month), or a mixer (3rd Wednesday). No decision has been made final yet.
Chapter President Nicky Dare concluded the networking meeting by asking members for any open suggestions for future projects or ideas. Because of the growing size of the Santa Clarita Chapter, everyone agreed the meeting venue should be relocated to a larger facility. Dare also suggested everyone RSVP early and arrive 15 minutes early to the next meetings. A group picture was taken.
"Let's share, grow, inspire, and motivate. Let's Keep Going, Santa Clarita!" said the Chapter President as she concluded the meeting.
Everyone exchanged business cards and the meeting was adjourned.
The next Santa Clarita Chapter meeting will be held at a new venue; date and location to be determined.
The following members and guests were present at the February event:Jacqueline A. Anderson, Terese Anthony, Ninoshka "Nina" Baca, Tish Dawson, Teri Hutchison, Ada Villanueva, Daphne Vandegrift Elizalde, Pauline Quintero, a guest who was interested in becoming a member soon. Sharon Orange-Nunn, a nonmember. This was her 2nd meeting and she expressed an interest in becoming a member also.
Daphne Elizalde of Daphne Chocolatier, displayed her bag of sweets and treats to all that evening. The bag was passed around for everyone to taste and enjoy.
The National Association of Professional Women (NAPW) is the largest and most recognized network of female professionals. NAPW provides a forum where women can interact, exchange ideas, educate, network, and empower. NAPW Local Chapters allow members to maximize their experience through meetings, networking opportunities, and professional events.
For additional information regarding the NAPW Santa Clarita, CA Local Chapter and/or NAPW, please visit http://www.napw.com.
Follow NAPW on Facebook and Twitter.
###