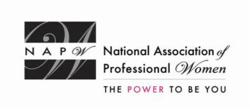 Hania stirred the women up by increasing their awareness of breast cancer and Deborah's leadership presentation was so motivational,
Garden City, NY (PRWEB) March 28, 2013
Members and guests of the NAPW St. Louis, MO Local Chapter gathered on March 11th for a professional networking meeting at the law firm of Lewis Rice, located at 600 Washington Avenue in St. Louis.
The evening's two guest speakers, Leadership Coach Deborah Luxton and Oncoplastic Breast Surgeon Dr. Hania B. Bednarski, shared expert tips and advice with the group of professional women who left the meeting armed with practical ways to improve both their professional and personal lives.
Before the speakers began their respective presentations, Lisa M. Pettis, St. Louis Chapter President and Owner of REFORM, a personal training and health and wellness business, greeted the women and began the meeting with introductions.
Members and guests participated in a lively networking session while enjoying their brown bag dinners and delicious snacks provided by meeting host Bridget Hoy.
Deborah Luxton, Christian Life & Leadership Coach, Teacher, and Speaker for Executive and Professional Women, and a St. Louis Chatper member, then took the floor. She started the presentation by speaking about acronyms: LEADERS (Listen, Encourage, Attitude, Deposit, Expectations, Relationship, Support) and LEGACY (Love, Establish, Give, Authenticity, Champion, and Yes).
Ms. Luxton told the women that leaders need to have a positive attitude because attitude is "contagious." For legacy, Ms. Luxton spoke about "champion," and encouraged the women to be confident in themselves, which will enable them to encourage and celebrate other women.
Along with the handouts, the guest speaker distributed cards and envelopes to the group and asked them to jot down anything that came to their minds. She instructed them to write it on the card, address the envelope to themselves, and seal it. She then collected all of the envelopes.
"In a few weeks, Deborah will mail the cards to us to remind us of what we jotted down and to hold us accountable for the notes we made to ourselves," said the Chapter President.
The next speaker was Chapter member Dr. Hania B. Bednarski, who was this month's Woman in the Spotlight. Dr. Bednarski is the first fellowship-trained breast surgeon south of Springfield, Illinois. She guides her patients through the entire experience (from detection to surgery).
In her comprehensive discussion, Dr. Bednarski spoke about the anatomy of the breast, the history of breast pathology, risks factors, such as being a woman and getting older, theories pertaining to breast cancer, prevention (i.e., nutrition, exercise, vitamin D), and treatment.
Many questions were asked of the doctor, who passionately answered each one with care and detail, to the point where the meeting went over time.
"Hania stirred the women up by increasing their awareness of breast cancer and Deborah's leadership presentation was so motivational," said Chapter President Lisa Pettis.
"I had to end the discussion after Hania's presentation and assured the women they would have an opportunity to hear more from Hania at the Health Fair that the St. Louis Chapter is hosting in October 2013."
Dr. also reminded Chapter members of the upcoming NAPW National Networking Conference in New York on April 26th.
LaDonna Turner invited the women to her jewelry party. Women interested in attending the party, should e-mail her.
The next St. Louis Chapter meeting is scheduled for April 8th at 6:00 p.m. at Lewis Rice, 600 Washington Avenue, St. Louis.
There will be a discussion about the book All About Me, which is written by Chapter President and Author Lisa M. Pettis.
For Chapter meeting updates, check out the St. Louis Chapter Page.
The following members and guests were at the March St. Louis NAPW Chapter meeting:
Deborah Luxton is a Christian Life & Leadership Coach, Teacher, and Speaker for Executive and Professional Women, specializing in women who "have it all together on the outside, but falling apart on the inside." She is a Founding Partner and Certified Independent Coach with The John Maxwell Team, and coaches, teaches, and speaks on five of his outstanding leadership programs.
She is a small business Owner of Truth for Life's Journey, Co-leads a Celebrate Recovery Ministry and serves on the Missouri Recovery Network Board of Directors. She is also a contributing Author of the 2011 book, Inspired Women Succeed and is retired from a 30-year Fortune 500 corporate career.
Hania B. Bednarski, D.O. is a Board Certified General Surgeon with fellowship training in both breast oncoplastic surgery and hand surgery. Dr. Bednarski completed her general surgery residency training at many trauma centers in New York City.
When she completed her residency, she sub-specialized initially in hand surgery at Lincoln Hospital in the Bronx, where she also trained in many reconstructive surgical procedures–mainly breast reconstruction.
After working purely as a hand surgeon in New York for three years, she decided to further sub-specialize in breast oncoplastic surgery. She matriculated from exactly such a program in New York. Her current services focus on comprehensive breast care. She performs all procedures from the biopsy, to the surgical resection for cure, and the final reconstruction of the breast.
Bridget Genteman Hoy. is a Litigation and Trial Attorney at Lewis, Rice in St. Louis, Missouri.
Her firm has over 150 lawyers practicing in the entire primary legal specialty areas, and is one of the major regional law firms in the Midwest.
During her career, she has helped companies of all sizes navigate legal disputes in state and federal courts around the country, including contract disputes, intellectual property disputes, personal injuries disputes, and more.
She has also assisted businesses and individuals in general corporate matters, working closely with her transactional colleagues at Lewis Rice. She makes a real effort to understand the needs of her clients so they get tailored legal assistance.
She enjoys volunteering her time with numerous charities, including literacy programs for young children, and also provides legal services to those who cannot afford a lawyer through Legal Services of Eastern Missouri and pro bono programs with the federal judicial system.
Cheryl Robinson-Moore, Director of Health Center Operations at Grace Hill Health Centers, Inc.
She is responsible for the overall planning, management, implementation, and coordination of nursing care services and nonclinical functions provided at multiple health center locations. She ensures efficient patient flow and enhanced productivity through effective supervision and coordination.
LaDonna Turner, Founder and CEO of Smart Ideas Consulting Firm, LLC (SICF). She offers clients a combination of micro and macro services. With 17 years of experience working in human service programs at all levels including direct client services, management, and administration, she is a highly specialized and skilled Human Services Consultant. LaDonna recently secured a contract with her business. Congratulations LaDonna!
Courtney Bond is a Financial Advisor at Edward Jones, which specializes in financial services.
Her skills and areas of expertise include retirement income, client relations, and client services. She received her Bachelor's degree in Finance and Business Administration from Southeastern Missouri State University. She is also currently involved with Urban Financial Services Coalition & the ABC's Of Money Management.
Courtney will be sharing financial tips with the Chapter in May, which will include a question and answer session, so mark your calendars!
New Member, Afifa Yusof is a Financial Advisor at Edward Jones, which specializes in financial Advisory Services.
New Member Mary Reichard, JD, MHA, was in town from Springfield, and joined the Chapter meeting. Her skills and areas of expertise include contract negotiation and drafting, employment law, litigation, legal research, and writing. She is a Legal Affairs Correspondent for WORLD Radio. It airs locally in St. Louis at 6:00pm Sunday on KSIV 90.1 FM, and on 250 stations nationwide.
She is also Assistant Attorney at Ozarks Community Hospital, primarily a Medicaid Provider hospital. She received her graduate degrees from St. Louis University, and is currently involved with The American Bar Association and The Springfield Missouri Bar Association.
Guest Anne Hensley, guest of Bridge Genteman Hoy, is a Mental Health Counselor.
The National Association of Professional Women (NAPW) is the largest and most recognized network of female professionals. NAPW provides a forum where women can interact, exchange ideas, educate, network, and empower. NAPW Local Chapters allow members to maximize their experience through meetings, networking opportunities, and professional events.
For additional information regarding the NAPW St. Louis, MO Local Chapter and/or NAPW, please visit http://www.napw.com.
Follow NAPW on Facebook and Twitter.
###